10 Reasons Why Pet Partners is the Gold Standard in Therapy Animal Programs
July 15, 2019
If you're searching for a reputable program to get started with therapy animal volunteering, look no further. Pet Partners, the leading therapy animal organization in the U.S., is the gold standard for you, your animal, and the people whose lives your team will impact.
1. Top Notch Education and Evaluation
Pet Partners requires all handlers to complete educational courses that teach best practices for therapy animal teams. Continuing education courses, both structured and informal, are also available to provide knowledge and confidence for those who are interested in developing new skills and helping specific populations, including veterans and clients with dementia.
Our evaluations are rigorous to ensure that teams are prepared for a variety of volunteering scenarios, so facilities have peace of mind that volunteers are the best of the best. Our dual-level qualifications for domestic teams also help volunteers and facilities find settings in which each team will be most effective.
2. We've Got You Covered
If you're a registered therapy animal program volunteer, you are covered under our $2 million commercial general liability insurance (CGLI) policy if an incident occurs during a visit on behalf of Pet Partners. If an incident occurs during your visit, Pet Partners will support you along the way, and determine best practices to ensure team and client safety in the future.
3. Committed to Infection Control
We pride ourselves on following stringent infection control procedures. Grooming guidelines, diet restrictions, and hygiene protocols help to ensure the health of our volunteers, therapy animals, and clients. Pet Partners supplies our handlers with infection control guidelines for before, during, and after visits. We also offer an infection prevention course endorsed by the Society for Healthcare Epidemiology of America (SHEA). This course is free to registered volunteers, and strongly encouraged for anyone working with AAI.
4. Dogs, Cats, and Llamas – Oh My!
When people hear the term "therapy animal," dogs are usually the first species that comes to mind.While dogs (of all breeds) make up the majority of our therapy animals, we are also proud to register several other species:
Cats
Horses & Donkeys
Birds (primarily parrots)
Rabbits
Guinea pigs
Rats
Miniature pigs
Llamas & Alpacas
We know that different types of animals have different effects, and that some people prefer species other than dogs. Offering registration for a variety of species, all of which have been shown to be suitable for AAI through demonstrated history and research, makes the positive impact of the human–animal bond available to more people.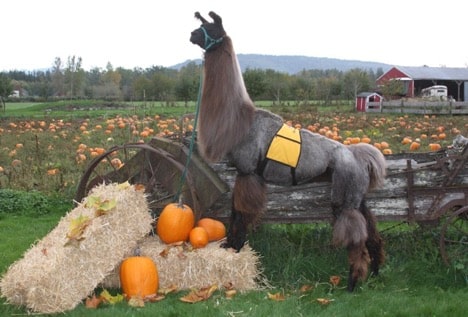 Learn more about our therapy animal species other than dogs in the Spring 2019 Interactions feature story.
5. Emphasis on Animal Welfare
Animal welfare is at the heart of our organization. Happy, healthy animals who genuinely enjoy therapy animal visits are the basis of what we do, and our Therapy Animal Program is built to support the welfare of our registered therapy animals. YAYABA™ (You Are Your Animal's Best Advocate) and PETS™ (Presence, Eye Contact, Touch, Speech) are important philosophies that ensure that therapy animals are safe, supported, and at ease during the work that they do. Animals are required to have a health screening before they are registered, and volunteer visits are limited to two hours per day to prevent therapy animal burnout. Additionally, volunteer teams are required to re-evaluate and renew their registration every two years (in normal times) in order to ensure the welfare of our animal therapy teams and the clients they serve.
Take a look at our position statement on therapy animal health and welfare.
6. Spreading Our Wings
Pet Partners is dedicated to spreading the greatness of the human–animal bond across the United States—but it doesn't stop there. In 2016, we started a pilot program for international expansion. Pet Partners services are now offered in more than a dozen countries worldwide, and we look forward to adding more countries to the list!
7. Special Initiatives
Pet Partners is dedicated to providing our therapy animal teams with a variety of volunteer experiences. Pet Partners visits aren't limited to clients in healthcare settings—we have created special initiatives such as Read With Me™ and Walk With Me™ that provide teams with additional opportunities to improve health and literacy in their communities.
8. Rooted in History
Our founders lived and breathed the benefits of the human–animal bond long before Pet Partners existed. Once called the Delta Society, Pet Partners began with a mission to increase research related to AAI and the human–animal bond. In 1991, we created the nation's first standardized, comprehensive training program in animal-assisted activities and therapies for volunteers and healthcare professionals. Today, our program has over 13,000 teams who make more than three million therapy animal visits annually.
9. All About Advocacy
Pet Partners is committed to making positive changes on local, state, and national levels. As an organization, we stay up to date on laws that affect therapy animals, and work for legislation that supports standards and increased access for animal-assisted interventions. We provide our volunteers with the resources they need to advocate for continuing research and education about AAI, and to work with legislators at all levels on thoughtful, informed legislation.
Learn more about our advocacy initiative and how you can participate!
10. Find Your Flock
Discover your Pet Partners family with access to local support. Many areas have Community Partners and Community Groups, which give you the opportunity to work with a collaborative group of Pet Partners volunteers in your area. Search for Community Partners in your area by organization name, your city, or your ZIP code. We also offer volunteers access to a directory of volunteering opportunities where facilities can request therapy animal visits, giving teams the opportunity to find new places and make new connections in their communities.
See for Yourself
We could go on all day about the many reasons why Pet Partners is so highly regarded in the realm of animal-assisted interventions, but we want you to experience it yourself! Become a handler and see why Pet Partners is known as the gold standard in therapy animal programs.
← Back to the blog
---