2021 in Review: Finding Ways to Move Forward
December 20, 2021
We began 2021 with an air of hope, as the development of COVID-19 vaccines offered the possibility of being able to return to more typical activities, including in-person therapy animal visits and the important work that supports those visits. Unfortunately, the rise of new COVID-19 variants and continuing high levels of infection in many areas meant that some of those possibilities didn't pan out or had to be pulled back after a short period.
However, the work we did in 2020 to keep animal-assisted interventions (AAI) possible provided a foundation for us to continue moving forward in 2021. Many facilities developed plans to bring limited in-person therapy animal visits back in safe ways, while continuing to make use of alternative options such as virtual and window visits. We found ways to train new team evaluators and offer options to make team evaluation safer. And we expanded our efforts to bring the benefits of the human-animal bond to more people through research, advocacy, support for AAI practitioners, and signature events. 2021 may not have turned out as planned, but we didn't let that stop our work.
Connecting People with Therapy Animals
Therapy animal teams everywhere continued using a variety of alternative options for bringing therapy animals to people in some form, including virtual visits, outdoor and window visits, and creative work such as crafts, photography, and writing to make connections through Animal-Related Engagement. While these options were developed specifically because of the pandemic, it's become clear that they offer benefits that can expand the possibilities for bringing the benefits of the human-animal bond to even more people. We'll continue supporting these options and encouraging our teams to make use of them.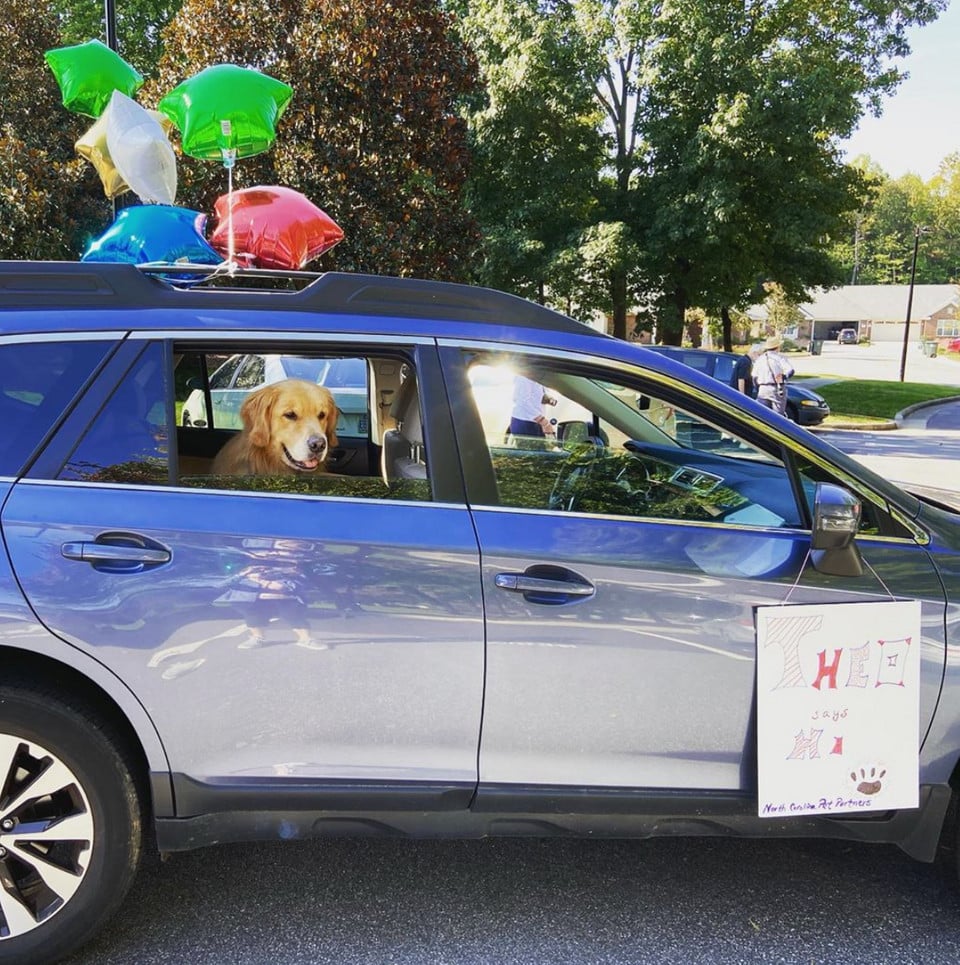 Many facilities developed options for having therapy animal teams onsite in limited fashion and with strong safety measures, particularly to provide support for healthcare workers and first responders. We saw significant increases in therapy animal teams visiting outside of facilities during shift changes, and in carefully managed visits inside facilities that limited the number of people interacting with teams to minimize interactions. As people were vaccinated, we started to see more teams return to indoor visiting, with appropriate safety procedures.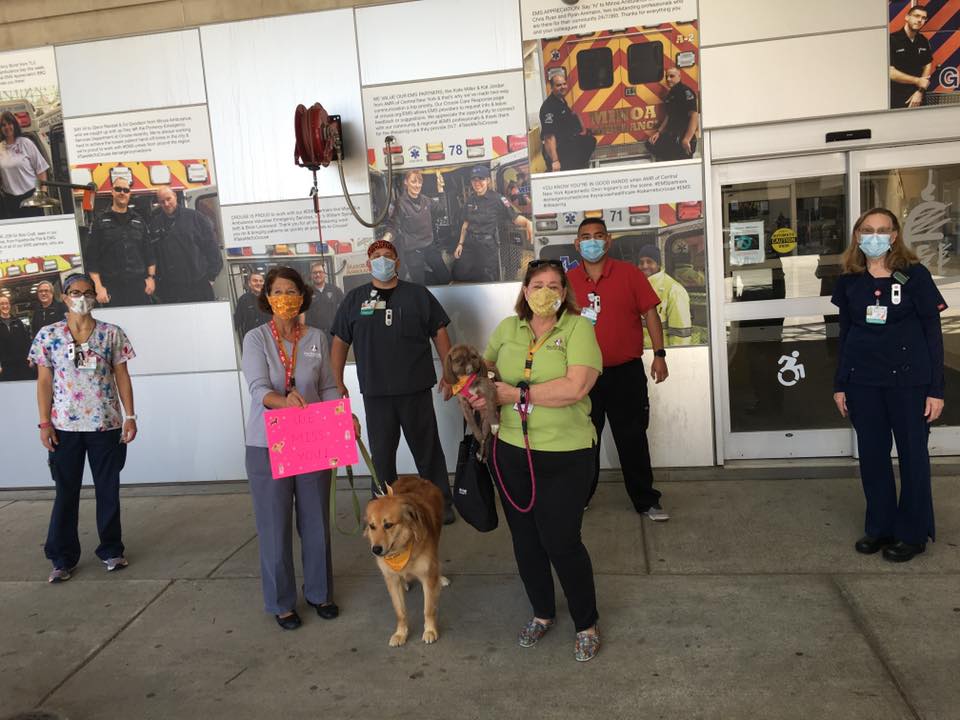 Read more about how teams began returning to visiting in the Spring 2021 issue of Interactions.
And a new type of visit setting arose: Therapy animal teams supporting people at COVID-19 vaccination sites. We saw this happen in a number of places throughout spring and summer as adults and teens were vaccinated, but it really took off when vaccination was authorized for children ages 5-11. The presence of therapy animals as motivation and reward to help children deal with vaccination fears is a beautiful example of how therapy animals are part of addressing this enormous public health issue.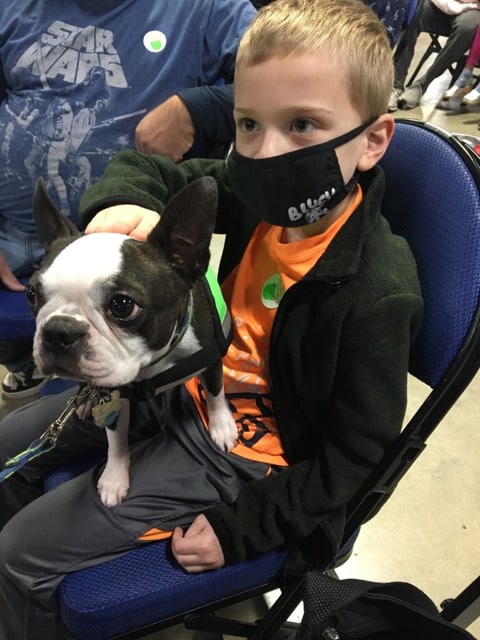 Our Animal-Assisted Crisis Response (AACR) program expanded to more than 600 teams throughout the U.S., available to support their communities in times of crisis. Our AACR teams continue to respond to natural disasters such as wildfires and extreme weather events, and to tragedies such as shootings and unexpected deaths in the community. But this year also saw a unique AACR deployment, in which Pet Partners teams helped support State Department employees who were assigned to the Afghanistan Task Force after the U.S. withdrawal. Something we've all learned over the past two years is that trauma takes many forms. Being able to provide support for this through AACR is another important part of therapy animal work.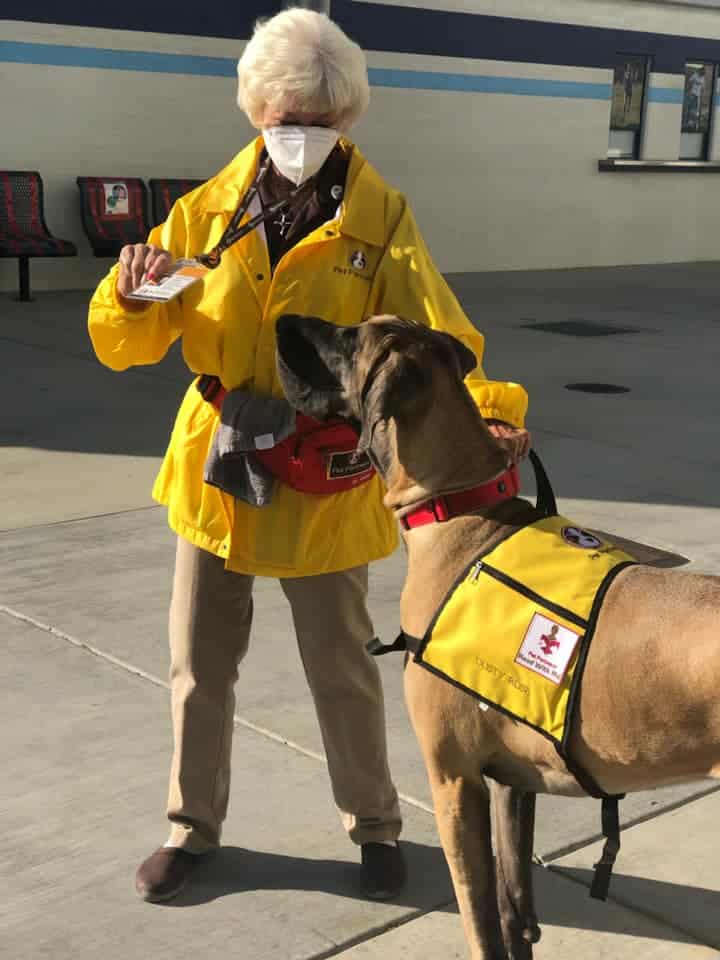 We have made a commitment to expanding the diversity of volunteers in our Therapy Animal Program, and dedicated ourselves to improving equity in access to therapy animal volunteering and visits, and including more people in the work that we do. As a leader in the field of AAI, it is imperative that we recognize and acknowledge health equity and disparities in marginalized communities and ensure that we are purposeful in our efforts to improve the field of AAI. All of our work is framed with these goals as we move forward.
Supporting Volunteers at the Community Level
Pet Partners teams work at the community level, because knowing what your community needs is the best way to provide them with your service. Pet Partners supports this community-level work by licensing team evaluators and other volunteer leaders, and working with local Pet Partners groups to assist them in recruiting new therapy animal teams and expanding the presence of Pet Partners in their communities.
We welcomed 60 new team evaluators to our program in 2021, with a number of them trained through our virtual team evaluator training. These evaluators will help bring more therapy animal teams to their communities, and the virtual training option means more team evaluator candidates were able to participate.
And our team evaluators made more than 4,000 evaluation slots available, even with the restrictions of the pandemic. While this is significantly fewer than we saw prior to the pandemic (and half as many as we need to meet the overall demand for teams and communities), it was a strong demonstration of the dedication of our evaluators and their commitment to ensuring their communities can benefit from therapy animal teams.
Read more about how we created new options for team evaluations in the Spring 2021 issue of Interactions.
Pet Partners Community Partner groups have been vital to providing therapy animal visits and support for volunteers in their communities, and we've made a commitment to providing them with support so they can do their work. We prioritized field relations with our local groups this year, including increased staff support and a virtual town hall meeting that connected local group leaders with Pet Partners leadership for discussion and brainstorming. This work is a foundation for developing new resources to better support our local groups.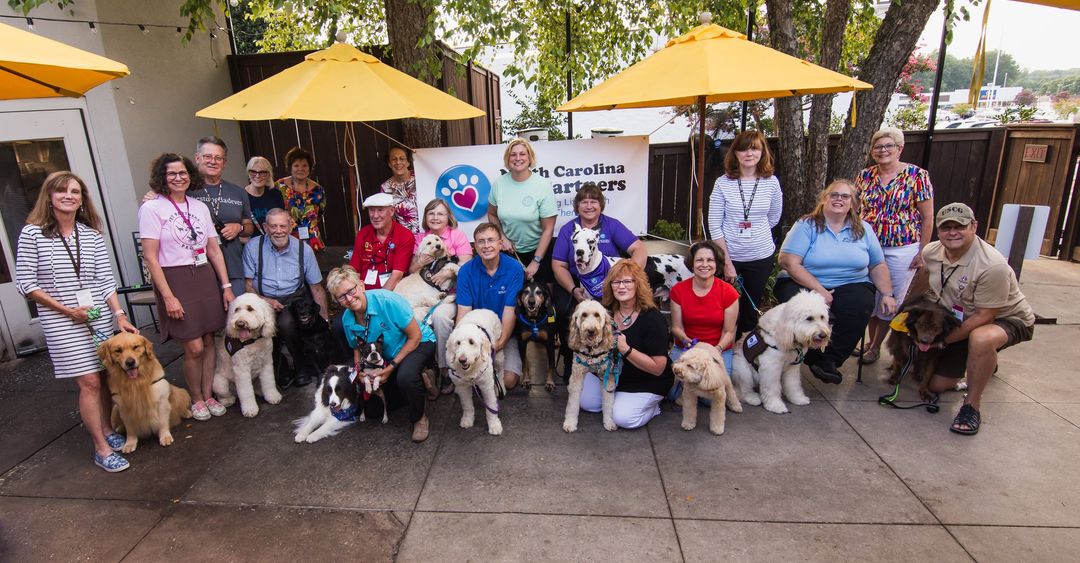 Read about the work being done by many of our local groups in the Fall 2021 issue of Interactions.
The Facebook group we created last year to provide videos and other ARE content transitioned this year to become a community for our therapy animal handlers and volunteer leaders, as well as prospective volunteers. This moderated community provides opportunities for volunteers to connect with each other, ask questions and get answers, and share about special visits and what makes this work so important to them.

Education Efforts
We continued our online educational events this year. We presented more than 25 Facebook Live events, and even held a few Instagram Live events. All of these offered the opportunity to not only connect with our volunteers and supporters, but to reach new audiences curious about our work.
Our Meet the Leader in AAI series continued with a range of topics, with experts discussing areas of expertise including cats in AAI, pets in the classroom, animal accommodation laws, and more.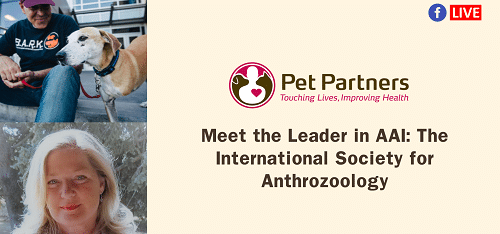 We presented a number of events with education for our volunteers, including returning to in-person visiting, becoming community leaders, and virtual visits. We also added a series of brief informational round-ups for the Therapy Animal Program, to help volunteers learn about recent program activities.

We continue to present Volunteering with Your Pet events quarterly, helping prospective therapy animal handlers learn more about our program requirements and giving them the chance to ask questions about the process.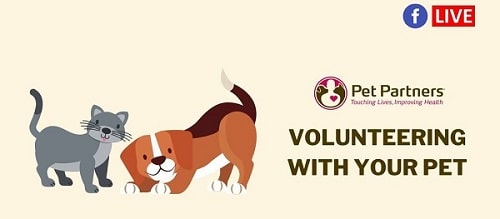 Facebook Live also proved to be a great option for us to present information about planned giving and personalized fundraising, and to hold kickoff and wrap-up celebrations for our signature events.
You can watch recordings of our past Facebook Live events on our YouTube channel.
Instagram Live events were a fun opportunity for people to learn more about individual volunteers and the areas in which they focus their work.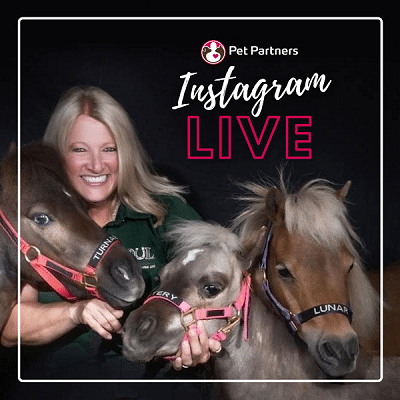 We may present fewer of these events in 2022 as more people return to in-person activities. But these events are valuable in bringing information and topics to our audience they might not encounter otherwise, and we intend to continue offering them periodically.
Advocacy Achievements
We also saw great impact from our advocacy work this year. Grassroots advocates helped to achieve over 70 local resolutions and proclamations recognizing National Therapy Animal Day and the amazing work that therapy animals do in their communities. This high level of recognition was made possible through a new advocacy tool we created that allows people to contact their local officials with just a few online steps.
In August, the PAWS Act of 2021 was signed into law by President Biden, thanks to the thousands of Pet Partners advocates who sent letters to Congress in support of this important legislation that will help bring service dogs to wounded service members. Pet Partners is proud that our grassroots advocacy program has been mobilizing on behalf of the PAWS Act for four years. Back in 2017, we even hosted a town hall with the bill's sponsor. Thanks to the determination and commitment of our advocates, real progress has been made on behalf of our wounded service members.
Pet Partners was involved in the passage of two pieces of legislation In 2021 that provide therapy dogs for witnesses in court proceedings: Texas House Bill 1071 and Maryland House Bill 186. Both laws highlight the standards of practice in AAI which ensure animal welfare as well as client safety.
We also learned this year of the publication of guidance in New York State around therapy animal standards. In 2018 Pet Partners was proud to be invited to participate in a working group to examine the need for statewide standards for therapy dogs and make recommendations for therapy animal standards in the state of New York. The resulting guidance articulates criteria for animals, handlers, and therapy animal organizations that aligns with Pet Partners' commitment to animal welfare and client safety. This guidance is now available for others to reference, and can provide assistance to advocates working with legislators on standards for therapy animals.
And Pet Partners teams took part in Pet Week on Capitol Hill, the virtual adaptation of the previously in-person advocacy event to help members of Congress learn about issues of concern to the pet community. We have been participating in this event since 2015 and are proud to continue helping lawmakers and others learn more about the value of AAI and standards for therapy animals.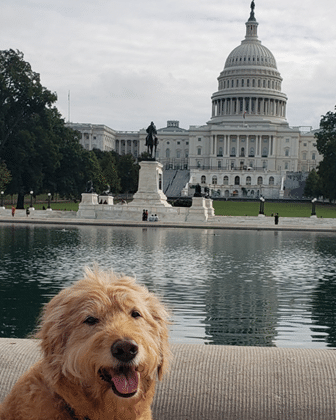 Success with Signature Events
Despite the ongoing strain of the pandemic (or maybe because of it), people were eager to take part in Pet Partners' signature events this year.
After a fairly small event in 2020, our Treats & Sweets Day bakers came back stronger than ever in 2021. Our 112 registered bakers hosted a wide variety of creative baking events, and raised more than $28,000, making this year's Treats & Sweets Day the most successful since it was created in 2015.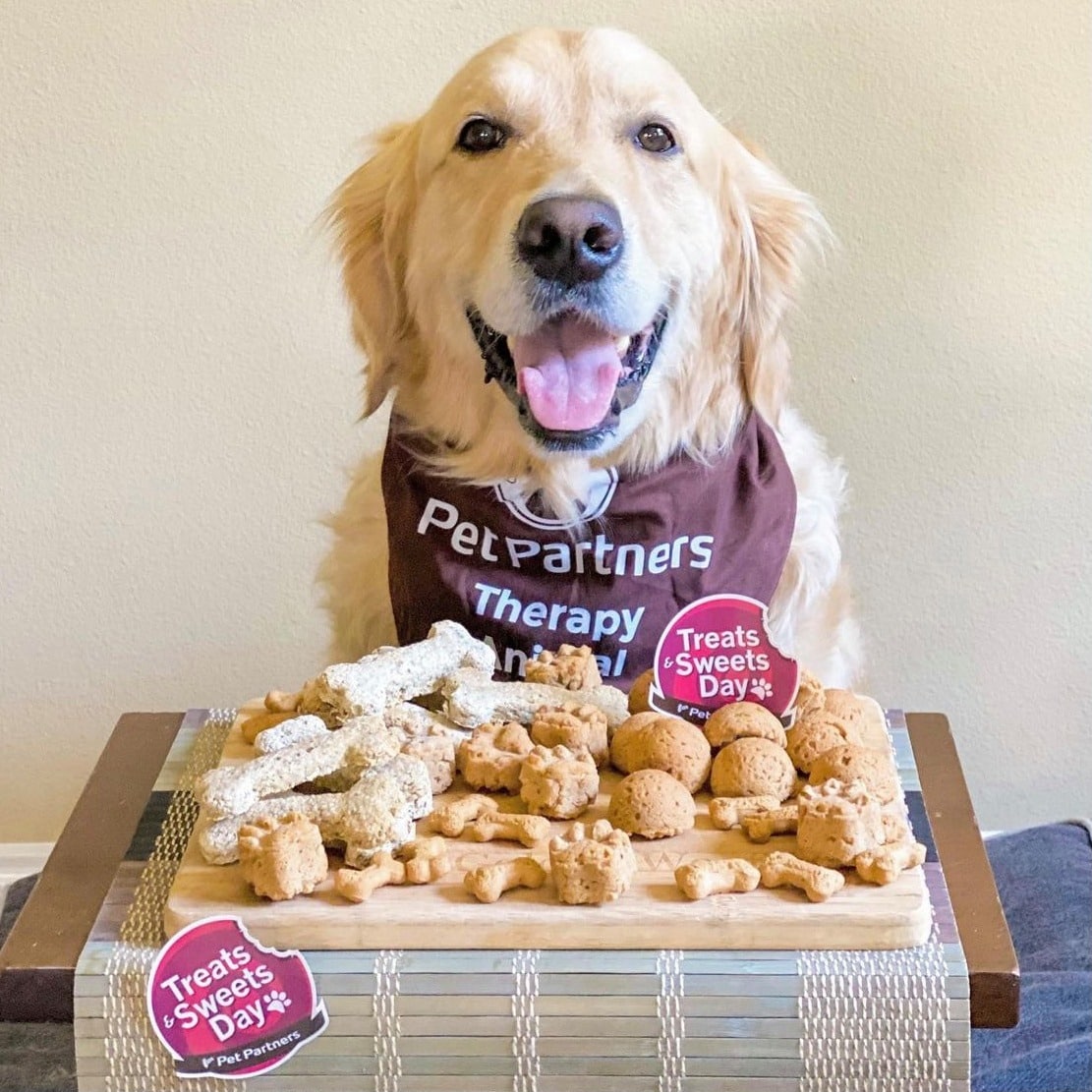 National Therapy Animal Day saw a huge increase in awareness and advocacy actions. In addition to the more than 70 government proclamations honoring the day, there was an increase in media coverage, and organizations across the country and even in Canada honored the day on social media and at their facilities. The goal of National Therapy Animal Day is to recognize the impact of all therapy animals and their handlers, and we're pleased to see word spreading about this day celebrating the human-animal bond.
This year's edition of the World's Largest Pet Walk was the biggest one to date! The number of registered walkers more than doubled from 2020, and the number of walking teams increased significantly. We also had the participation of more Pet Partners local volunteer Community Partners and Community Groups than ever before. People walked in nearly all 50 states, plus the District of Columbia. And there were walkers in 10 other countries as well! And while plenty of dogs took walks, other species participated too, including cats, miniature horses, guinea pigs, rabbits, and even an alpaca and a pigeon. And participants raised more than $75,000, which will support the Pet Partners Therapy Animal Program as well as Walk With Me™ and other initiatives that bring the healing benefits of the human-animal bond to so many people.
Rewarding Partnerships
We were pleased to welcome some new partners this year, as well as continued support from existing partners, who helped us spread the word about Pet Partners, therapy animals, and the value of supporting our work.
Pet Partners has long supported the benefits of animal-assisted interventions for students and in classrooms. We have partnered with The Pet Care Trust, a nonprofit organization whose mission is to enhance students' educational and personal development through interaction with pets in their classrooms, in launching the Dogs in the Classroom program. The pilot program will provide interactions with registered therapy dog teams in approximately 100 classrooms in select markets across the country, helping more students experience the benefits of the human-animal bond. The pilot, which will run through the 2021-22 school year, will allow the program to prepare for expansion to more classrooms in future school years.
PetPlate helped support our celebrations for National Therapy Animal Day and the World's Largest Pet Walk, running social media campaigns that donated $1 for every like and share on their social media posts about these events.
Dog is Good for Good joined us for the World's Largest Pet Walk, setting up a walking team and raising more than $2,700. We are pleased to have their support and look forward to more events with them.
Blue Shield of California returned as a sponsor for the walk this year, including fielding a walk team. We also appreciated support from our friends at American Pet Products Association and BNY Mellon.
We were pleased to recognize National Make-a-Will month by partnering with FreeWill, an online will-writing service, and providing our volunteers and supporters with the opportunity to create wills quickly and easily.

We continue to have a productive partnership with Veterans Health Administration, highlighting the benefits of AAI for veterans and working to bring therapy animals to VHA facilities.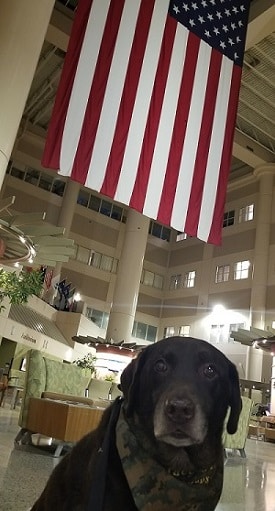 And thanks to generous supporters, our Cancer Care Fund had the opportunity to financially support 32 therapy animals diagnosed with cancer this year, disbursing over $27,000 to help with veterinary fees.
AAI Advancement
Our work in advancing the field of AAI and providing support for research and practitioners in the field was very productive this year.
We continue to work with HABRI in offering grants to fund scientific research on the health, education, and wellness outcomes of therapy animals, for both the people and the animals involved. In December we announced a new research grant to Virginia Commonwealth University (VCU) to investigate the potential for reduced loneliness among people hospitalized for mental health conditions resulting from a program of therapy dog interventions. The goal of this new VCU research project is to collect pilot data in a population that is at-risk for loneliness and its negative effects to determine whether AAI in the form of therapy dog visitations can serve as a buffer against these negative outcomes.
In May, Washington State University released the findings of a study related to the impact of therapy dogs for stressed college students. Registered therapy dog teams with Pet Partners of the Palouse were part of this study. Over the course of this three-year study, interaction with therapy animals proved to be even more effective than traditional stress-management approaches. Measures of executive functioning also improved for those in the AAI group, with the most at risk students displaying the most improvements.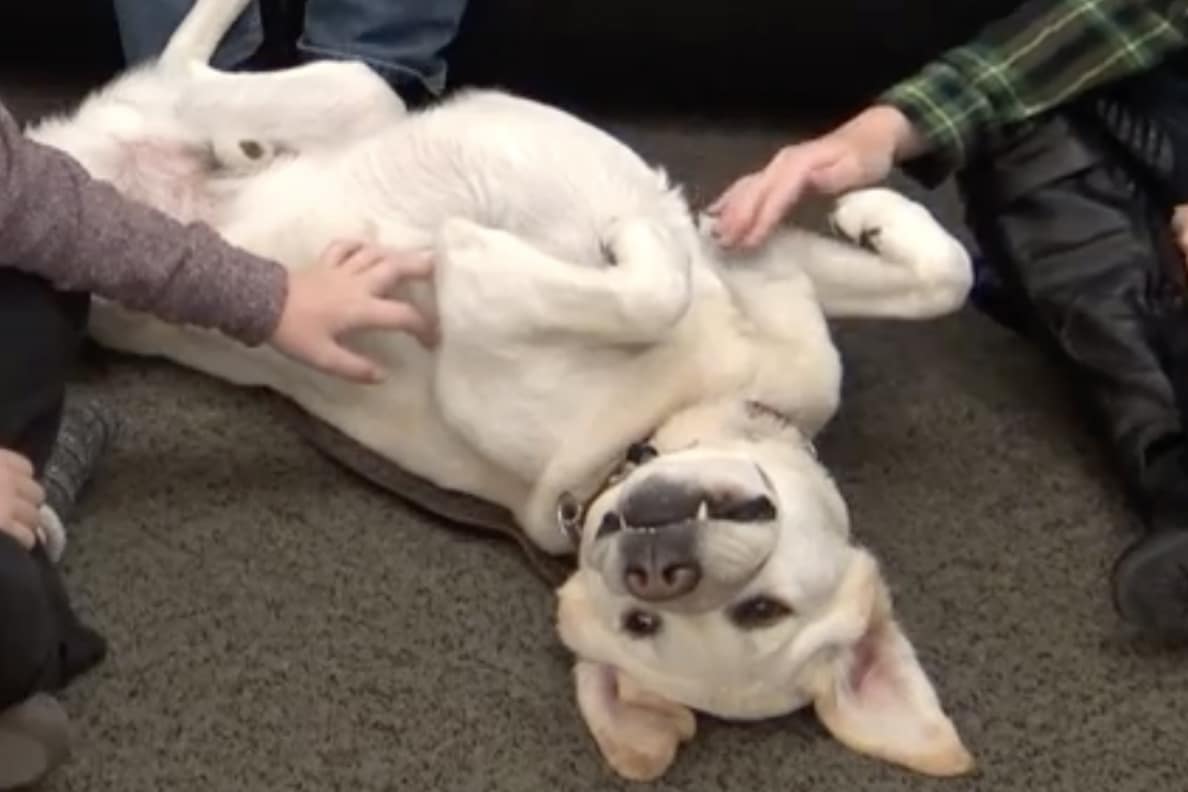 In September we published a new white paper, AAI in Professionalized Settings. This publication provides an overview of our foundational research around professionals utilizing AAI and the process of that research; details key findings; and provides information on the actions we are taking to address the needs of professionals working in AAI. It addresses a crucial gap in the in the field regarding the needs of AAI practitioners.
We also participated in 22 presentations about AAI at a variety of conferences, universities, and corporate settings. All of this work helps bring more attention to the field at large and advance AAI as a meaningful therapeutic option.
We launched a new website for Standards of Practice in Animal-Assisted Interventions, providing this crucial information about recommended standards of practice across multiple facets of AAI, as well as additional resources. This website will serve as a central location for handlers, practitioners, facilities, and legislators looking to information on standards for AAI.
Preparing for the Future
While we're pleased with everything we achieved this year even with the ongoing pandemic, we know that our work doesn't end just because the year does. We can't predict what 2022 might throw at us, but we are taking steps to prepare for new opportunities and expanded activities in support of AAI and the human-animal bond.
We're developing plans to increase the number of team evaluators and provide more evaluation slots, so that we can get our therapy animal teams renewed and add new teams. The demand for therapy animal visits is increasing all the time, and we want to do all we can to meet that demand with the best therapy animal teams in the field.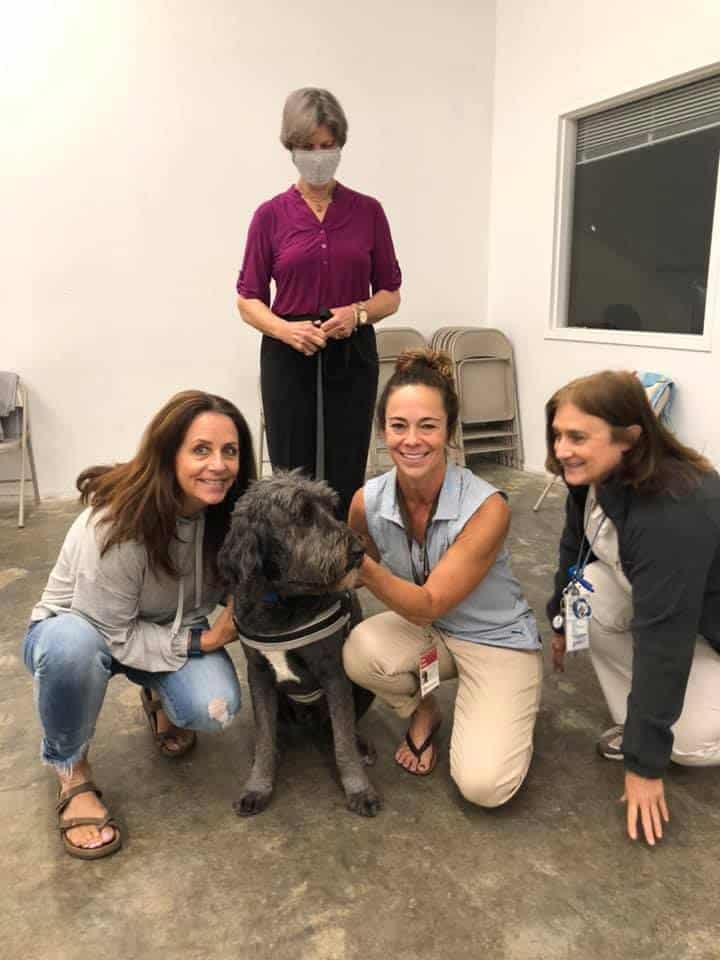 We'll be announcing a new leadership role within our AACR program, to better support our AACR teams and the increase in deployments.
An updated version of our online Handler Course is on the way. It will include voiceover, closed captioning, image tags, and other features to increase accessibility.
New resources are in process for our Community Partners and Community Groups, to support the creation of new local groups and provide additional tools for existing groups.
We'll be announcing a new signature event in January that will bring attention to the ways pets affect everyone's lives—all pet lovers will be interested! Follow our social media channels for information.
And we are preparing for the launch of a new association to support professionals working in AAI. The Association of Animal-Assisted Intervention Professionals (AAAIP) will provide education, connection, resources, community, and research, as well as a certification exam for AAI professionals.
As we end our second pandemic year, we know that the challenges presented by COVID-19 may not be done yet. But we also know that we will continue our vital mission of supporting human health and well-being through the human-animal bond. Our dedication to this work remains strong and we look forward to all the ways we'll deliver our mission in 2022.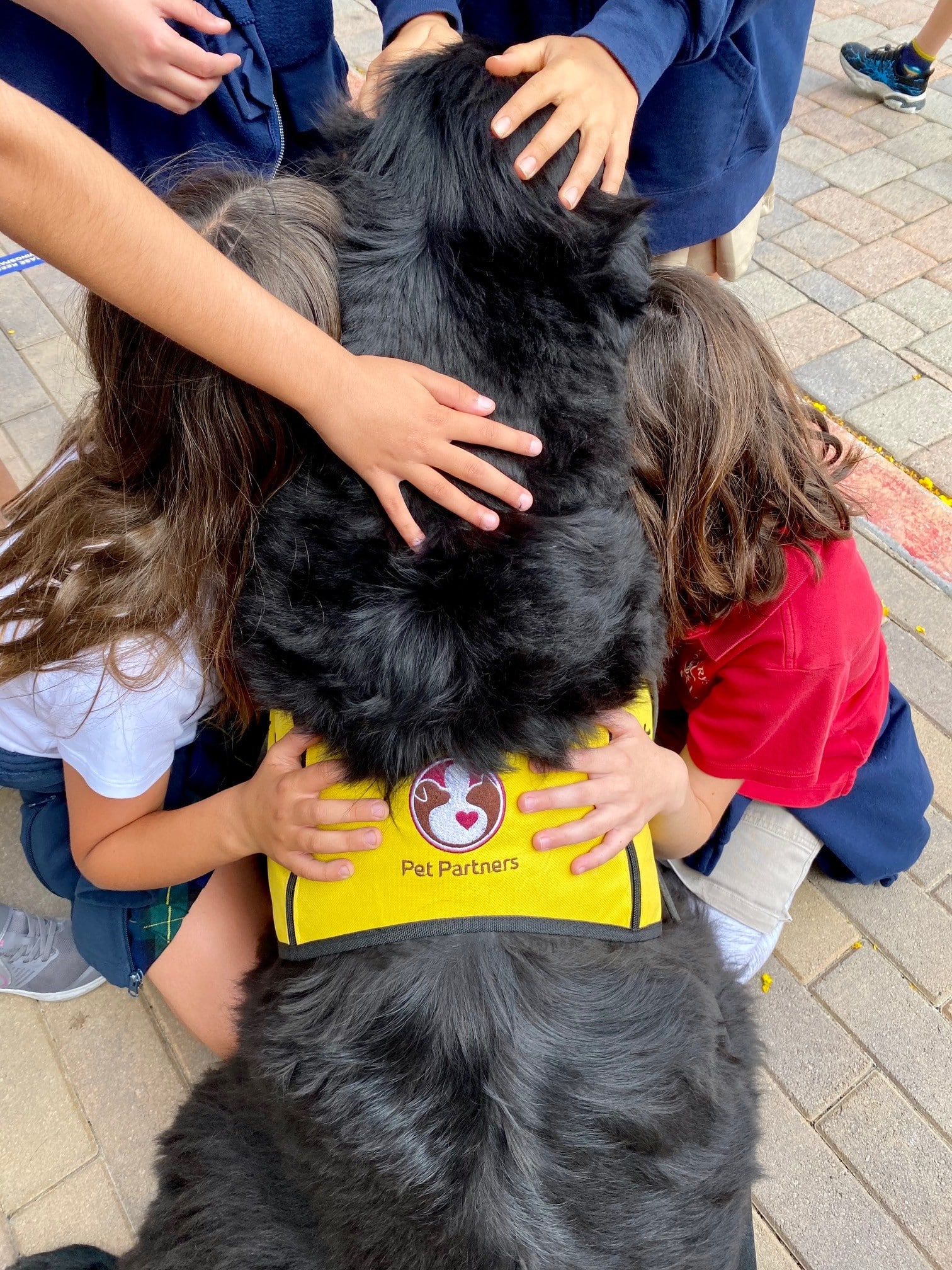 ← Back to the blog
---