2022 Magic Award Recipients
January 24, 2023
2022 Magic Award Recipients
By Elisabeth Van Every
Since 2017, Pet Partners has offered a scholarship funded by Dr. Aubrey Fine, named the Magic Award in memory of his therapy dog Magic, to registered volunteers for use in personal/professional development in the field of AAI. In 2022, the scholarship was expanded to include members of our sister organization, the Association of Animal-Assisted Intervention Professionals (AAAIP). The recipients of the 2022 scholarship are Pet Partners volunteer Jennifer Lager, and AAAIP member Kathryn Ribbens. Both recipients are profiled below (interviews conducted in January 2023). Congratulations to them!
Pet Partners Magic Award Recipient 2022: Jennifer Lager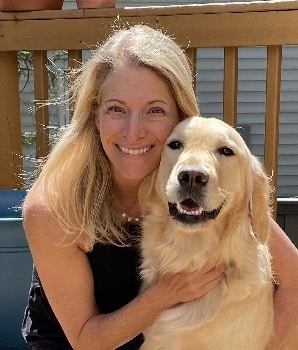 Jennifer registered as a therapy animal team with her therapy dog Cali in April 2022. They regularly visit with people at a memory care facility. Jennifer is also a psychologist, and plans to formally incorporate AAI in her treatment protocols when she has done more training in the field.
How did you get started incorporating AAI in your activities?
I have always found myself interested in finding alternate ways to connect with clients in addition to the conventional model of talk therapy. For years I have taken walks with clients, and I have facilitated a therapeutic walking group in the past. Adding Cali as my partner is one more way to expand the range of therapeutic options available to my clients.
What made you think Cali would be a good candidate for becoming a therapy animal?
Cali is a golden retriever, which of course is a friendly and gentle breed of dog. She likes all people and has a seemingly endless supply of love and affection. She has been well trained by my kids to be tolerant of all kinds of games, getting dressed up in silly outfits, and adventures into novel situations.
What led you to become a Pet Partners team with Cali?
I enjoy volunteering, and thought my ability to make a meaningful impact would be incrementally larger with Cali as my partner. Not that everyone isn't happy to see me, but let's be real, we know who the star of the show is!
Are you currently incorporating AAI into your psychology practice? If so, how has your use of AAI been received in your practice?
A little bit, informally. (With AAI there is typically a treatment plan laying out the role of the animal in the interventions. I have yet to utilize Cali's presence in that way.) Recently, Cali has come to the office with me a handful of times. (I have been working remotely for the last few years and am only recently seeing more clients in person. Before COVID, Cali was still a puppy and not calm and mature enough to come to the office and work). She will lie down at the feet of the client and often they will reach down to pet her, which they describe as soothing. With permission, she will put her paws up on the couch and come in close for a hug, which brings people great happiness. I've gotten comments like "That made my day."
How do you envision incorporating AAI into your practice?
My goal going forward is to use more targeted interventions involving Cali. I plan on having her assist in teaching clients mindfulness and breathing techniques. There are times when clients have trouble sharing a difficult memory or thought, but I'm curious if they might have an easier time telling Cali instead of me. I'm hoping Cali can encourage clients who are sedentary or inactive due to mood issues such as depression to walk with her. Discussing how Cali responds to someone being disinterested in her efforts to interact with a client who is experiencing social anxiety and fears of rejection could be helpful. I think the sky is the limit in ways that Cali can participate! I look forward to creatively finding new roles for her as I move forward.
Related to the above question: How is AAI important or different compared to typical therapy in the type of practice you currently do and with the client populations you serve?
AAI doesn't change the goals of therapy, but it is a tool that can help us accomplish those goals. For example, I frequently teach clients relaxation breathing techniques, grounding techniques, and mindfulness practices without Cali. However, because dogs are by nature present-oriented (an important component of mindfulness) and Cali is comfortable and relaxed in my office setting, she is a great model and teacher of how to achieve a state of relaxation and calm confidence.
Are there connections (in practice or knowledge for you) between your psychology practice and your visiting at a memory care facility? What led to your choice to visit at this type of facility?
I was open to visiting many different venues, and at first really wanted to volunteer in a hospital pediatric setting. However, the realities of my availability and the requirements of the memory care facility really lined up well. Since I've started visiting there, I'm enjoying seeing the same residents repeatedly and getting to know them (and of course they share many great stories about their pets). I talk often with my clients about what behaviors, attitudes, and experiences facilitate happiness. I hope that the experiences with Cali bring joy to the people she meets both during and after our visit.
I'm also starting to recognize some opportunities to help that I didn't first recognize. For example, many of the residents demonstrate limitations in their range of motion and dexterity. However, they are very motivated to touch Cali or give her a treat. So, they get some healthy movement by reaching for her, petting her, and holding out a treat in their hands.
What are your thoughts about receiving the Magic Award and how it will help with your goals?
I am excited and grateful for receiving the Magic Award! I have recently taken a two-day AAI course (which the Magic Award paid for) and am learning so much that will help me in my volunteering, as well as my integration of Cali as a partner in my psychotherapy practice.
AAAIP Magic Award Recipient 2022: Kathryn Ribbens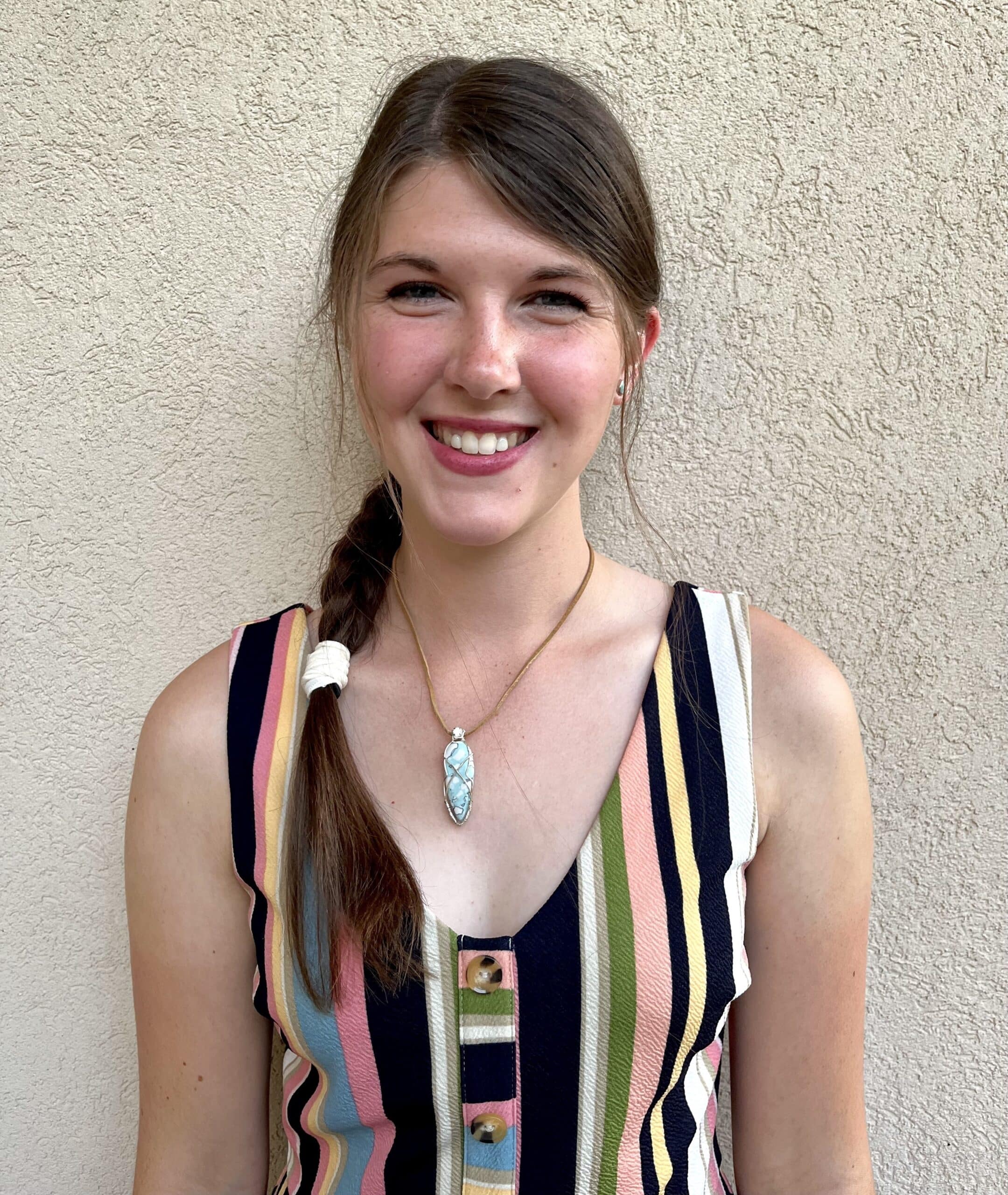 Kathryn Ribbens joined AAAIP shortly after the organization launched in 2022. She is an occupational therapy student with goals to incorporate AAI into her field and her practice after completing her education. She has also served as a puppy-raiser for future service dogs and created a program at her university to help students there raise therapy dogs, and she has experience working with and training horses as well. She is currently pursuing Pet Partners team registration with her dog Sierra.
How did you decide you want to incorporate AAI in your practice?
While I have always been an animal lover, I discovered the unique abilities of animals 10 years ago when I started volunteering with a nonprofit that partnered with miniature horses for animal-assisted interventions. The horses helped me connect with those we were serving in ways I could not have accomplished on my own. I later became a community support worker for an adolescent with autism spectrum disorder. He found working with horses very meaningful, so I incorporated my own horse into our time together. Our shared love of horses, and my amazing horse's temperament, resulted in amazing progress. Through my work as a community support worker, I discovered the field of occupational therapy. It aligned with my goals of partnering with animals to bring healing to people. I then committed to pursuing the specialized field of animal-assisted therapy within occupational therapy.
How do you envision incorporating AAI into your practice?
As an occupational therapist, I can incorporate animal-assisted therapy into my future practice. I intend to partner with my dog, Sierra, and my horse, Tessa. Dogs and horses each have unique strengths that I believe will enhance therapeutic interventions. As a prey animal, horses can be slow to trust and quick to initiate a flight response. A client must be patient as they build a positive relationship with the horse. Dogs, in my experience, are more forgiving and are quick to offer unconditional affection. They are very skilled in drawing someone out of their shell and into engaging with them. Of course, every dog and every horse is unique. There is no "one size fits all" in people or in animals.
My priority in every animal interaction is a positive relationship between human and animal. It's an attitude. I bring cooperative care into all my daily routines with my animals. I seek to meet their needs before attempting any training. It has strengthened our relationship more than anything else. Most importantly, I believe my animals need autonomy to decide to engage with me or not. I allow my animals to say "no" to any activity I propose, whether it is performing a trick or offering a ride. Giving my animals this freedom has opened our two-way communication. They know that I will respect what they tell me, which makes our interactions positive and safe. I will keep this framework in place with my future clients. I believe it supports empathy and respect in all interactions, particularly when we examine what the animal is communicating to us.
I clicker train all my animals and believe it will be instrumental in future interventions. For example, if either Tessa or client is uncomfortable with sharing a close space, they can interact through a fence. Tessa knows how to touch a target with her nose, so a client can move the target however they wish, and she will follow.
I am also training Sierra to be an occupational therapy facility dog. It gives me the opportunity to apply her service dog training in a new way. She loves learning the plethora of skills that will help her become an active participant in interventions. She learned how to hold a paintbrush in her mouth and complete a painting in about fifteen minutes. Since I am still in occupational therapy school, I decided to register her with Pet Partners so we can volunteer in our community until I am a licensed practitioner. We have our team evaluation on February 4, so I am very excited! I would love to volunteer with veterans, since Sierra was originally trained to be a veteran's service dog. I would love to see her serve veterans in this new way.
Related to the above question: How is AAI important or different compared to typical therapy in your field?
I am only in my second semester of my occupational therapy program, so I am still learning the scope of my practice. I am also still learning how to incorporate animal-assisted therapy. I will soon begin taking courses from AAAIP to prepare me for the C-AAIS exam. I also purchased Melissa Winkle's Professional Applications of Animal Assisted Interventions: Blue Dog Book to begin familiarizing myself with the dog training required for occupational therapy interventions. I also plan to gain experience in animal-assisted therapy during one of my fieldwork rotations.
From my limited knowledge and experience, I believe occupational therapy's strength lies in its flexibility, creativity, and emphasis on holistic health. Non-traditional interventions, such as animal-assisted therapy, can be incorporated into this field. The goal of occupational therapy is to find the activities that a client finds meaningful and using them to administer therapy. For clients that enjoy engaging with animals—and are safe around animal—animal-assisted therapy is a good fit. Occupations could include brushing an animal, taking an animal for a walk, playing fetch, directing an animal through an agility course, learning communication skills, and so much more. Most importantly, animals can bring motivation and meaning to interventions, leading to better outcomes. I also appreciate that animals tend to go hand-in-hand with spending time outdoors, so I get to incorporate some nature therapy as well. I look forward to increasing my knowledge and experience in these fields so I can responsibly incorporate animals into occupational therapy in an ethical and evidence-based way.
What knowledge have you gained through your activities as a puppy-raiser and trainer for future service dogs? How can it be applied to your practice?
When I left my home community to begin my out-of-state undergraduate schooling, I sought a new way to volunteer with animals. A local nonprofit trained service dogs for veterans and donated them to the veterans free of charge. Since veterans could be on their waiting list for several years, the nonprofit needed more puppy raisers—volunteers who raise and train service dogs for the first year of their life. This role resonated with me, but my university lacked any framework for raising service dogs on campus. I collaborated with the nonprofit and my university for over a year, until they granted me permission to be the first student to raise a dog on campus.
During this time, I wrote a training guide to demonstrate the complexity of training a service dog. I needed to communicate that the dog with me on campus was not a pet I was sneaking in, but a dog with a very important job. The training guide also gave me the opportunity to take a deep dive into the theories of behavior modification. I had been studying positive reinforcement training for several years beforehand and had even done my high school senior project on it. I educated myself best I could and took some online lessons, but the training guide allowed me to condense the information I gathered into one place. I gathered information from research studies, respected authors, and certified animal behaviorists.
While my B.A. in psychology gave me a foundation in learning theory, training animals gave me practical experience. It is one thing to understand a theory and quite another to learn what to do when an animal's behavior does not fit into a specific mold. I learned to stop and always ask for the "why" behind every behavior. I believe all behavior is communication, and every opportunity is a training opportunity. Learning to identify what motivates a behavior helped me understand when to apply each solution.
During my years volunteering with this nonprofit, I heard numerous stories from veterans about how their service dogs saved their lives. I learned to advocate for handlers choosing to partner with service animals and educate my community about service dog etiquette. I started the Assistance Animal Club on campus to provide volunteer opportunities for students on campus. It gave veterans a platform to come and share their stories. The club also give me the opportunity to describe the difference between a service dog, therapy dog, and emotional support dog.
My time with this nonprofit also introduced me to a future role I could serve as an occupational therapist. I could advocate for clients desiring a service animal and remove barriers that would prevent them from this goal. Of course, most of my learning came from raising Sierra. I learned to anticipate her response to a variety of situations. I learned her signals for when she needed a break. I learned to anticipate people's reactions when I worked on public access skills with her. I established a go-to explanation whenever someone asked if they could pet her, or why I was allowed to have a dog with me. I quickly learned that my assumption that people knew how to interact with service animals was wrong. I learned to be proactive and direct people to a proper response, which is a skill I believe will be instrumental in my future practice.
What made you think Sierra would be a good candidate for becoming a therapy animal?
A few quick facts about Sierra: She is a 40 lb. red merle parti F1b Bernedoodle (75% poodle, 25% Bernese Mountain Dog). She is one year old (her birthday is in April). Her AKC Canine Partners registered name is Monte Rosa's Swiss Miss.
I first met Sierra a few weeks before her adoption, when I performed the Volhard Puppy Aptitude Test for the litter. Based on the test and my own observations, I believed she would make an excellent service dog candidate. She was independent enough to think critically and evaluate situations, allowing for intelligent disobedience, but she also sought out interactions with others. As her puppy raiser for her nonprofit, I got to name her. I chose the name "Sierra" after the military alphabet, befitting her future career as a veteran's service dog.
From the moment I brought her home, Sierra proved me right. She eagerly learned everything I taught her. By the time she was ten weeks old, she solidly knew fifteen commands and excelled during her first public access outings. She made the 20-hour drive with me to my college when she was just four months old. She was a perfect travel companion.
Our first week on campus, there was a tornado warning. I remember waking her up in the middle of the night and rushing to the basement with her in a crush of bodies, nervous both for the tornado and that her puppy bladder would not survive the excitement without a chance to relieve herself outdoors. Even at such a young age, she sensed the stress from the other students and made it her personal mission to calm them while we waited out the tornado. I joked from then on that her off-duty job was as a therapy dog. She had the incredible ability to sense stress and act accordingly. She was particularly popular during finals week.
My primary role as Sierra's puppy raiser was to expose her to everything I could, increase her confidence, and do some obedience, public access, and task training. Living on a college campus provided ample opportunity for exposure and socialization. I took her with me to class every day. We attended concerts and special campus events together. Sierra even played a primary role in my senior research project: we studied the effects of a service dog in training on cognitive tasks. I also witnessed her shift of mindset every time I put her vest on. She knew when she was working and ignored everything that was not related to her job. As soon as she saw me get her vest, she was waiting by the door for me and ready for anything. When the vest came off, she was as goofy, social, and fun-loving as ever. Since I did not know what tasks her veteran would desire her to know, I taught her a little bit about everything. Our main focus was on psychiatric and mobility tasks. She retrieved medication on command, alerted to anxiety, performed deep pressure therapy, and could take and hold any item (including a dime).
After our graduation from college, it came time for me to bring her back to her nonprofit to be matched to her veteran and complete her training. While I always knew the day would come, it did not make saying goodbye to her any easier. The only thing that allowed me to walk away was the knowledge that she could help a veteran. However, six months later, she had passed through two placements with veterans. Each veteran had developed health issues that led to them deciding not to keep her. Since Sierra passed all her service dog training with flying colors, the nonprofit wanted to see her in a role she would enjoy. After looking through the entire waiting list, the nonprofit could not find a good match. So, they offered me the opportunity to adopt her and train her as my occupational therapy facility dog. I jumped at the opportunity to forever partner with the dog that stole my heart. Within six weeks of returning home with me, Sierra earned her AKC Canine Good Citizen title. Even though she was no longer a service dog, Sierra seemed intent on proving that she was still a go-getter, just like me.
I believe Sierra will excel as a therapy and facility dog, just as she has excelled at everything. Best of all, she no longer has to ignore people when she is working, which was always one of the hardest parts of her service dog training. Her 18 months of training as a service dog gave her a solid foundation. She is a stable, smart, and well-rounded dog. While she loves people and other animals, she exercises self-control in all interactions. As a team, we have been through a lot together. She was with me 24/7 for a year. She came to work with me, to class, to social outings, and on my vacations. We are now exploring her new roles as a therapy and future facility dog. She still gets to come to class with me, and I can't wait to start volunteering with Pet Partners.
The success of animal-assisted interventions relies on the strength of the relationship between the handler and the animal. I believe the history Sierra and I have will provide incredible benefit to our future work together. I can also shape the tasks that she learned for service work into viable occupational therapy interventions. Sierra is thrilled to perform these behaviors and is always looking for opportunities to show them off. She is a working dog at heart. She likes to keep her brain and body busy. I can continue to use her deep pressure therapy cue, as well as retrieving specific items. I am also teaching her cues that will direct her through interactions. For example, I taught her a cue to rest her head in the lap of someone using a wheelchair to allow easy access for petting. Plus, the weight and warmth of her head provides some calming sensory input.
I believe Sierra also meets the Pet Partners qualifications for a therapy dog. She is reliable, predictable, and directable. She displays affiliative behavior toward people: she seeks connection with others. People always comment on Sierra's eyes. They are very expressive and human-like. They were green when she was a puppy but developed into a beautiful shade of hazel as she grew. Her eyelashes are longer than those of any other dog I've met. When she looks at you, it feels like she is seeing all of you. I know that she will use this feature to connect with clients. They are going to love her.
Sierra is my trailblazing partner. She was the first service dog in training on my undergraduate campus, and I was the first puppy raiser there. She is now the first facility dog in training in my occupational therapy program. I believe we are also one of the first Pet Partners teams in my city. Sierra exceeded my expectations since the start, and I know she will continue to surprise me.
What are your thoughts about receiving the Magic Award and how it will help with your goals?
Since I am already paying tuition for my occupational therapy program, receiving the Magic Award is a huge weight off my shoulders. Since animal-assisted therapy is a specialized field, and one that is not regulated, I knew it was imperative to receive formal education. When I discovered that AAAIP offered courses and the C-AAIS exam, I knew that it would offer the education I sought. As a member of AAAIP, I hope to support the standardization and professionalization of animal-assisted therapy. I believe that research is needed to support evidence-based practice. I also hope to be a part of advocating for the benefits of animal-assisted interventions. The Magic Award will allow me to take the AAAIP courses and C-AAIS exam sooner than I would have been able to otherwise. It also allows me to pursue registration as a therapy animal team with Pet Partners. I cannot wait to begin volunteering in my community with Sierra.
Our congratulations go again to Jennifer and Kathryn, and our thanks to them for their efforts in expanding the impact of AAI.
← Back to the blog
---