5 Ways to Show Your Support During the World's Largest Pet Walk
August 21, 2019
Get your walking shoes and leashes ready!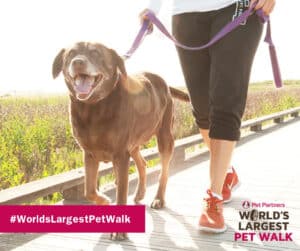 September 28, 2019 is the 2nd Annual World's Largest Pet Walk, an official Pet Partners walking event and signature fundraiser. This event is for anyone who wants to enjoy the health benefits of being active with pets, of all species, while also supporting Pet Partners!
We invite you and your pets to walk at any time and location on Saturday, September 28. Walk whatever distance and path that feels right for you and your animal. Whether you gather some friends and family for a casual stroll around the block, lead a group walk at your workplace or community, or take a quiet hike just you and your animal, we want to see you taking steps with your pets.
Here are five steps to set you on the right path!
Step One: Set up your fundraising page and invite your friends and family to donate in honor of your efforts. Be sure to sign up as a team if you have a group of folks who will be walking together. Walkers who raise $50 or more will receive a pet bandanna and those who raise $100 or more will receive their pet bandanna and an official World's Largest Pet Walk T-shirt!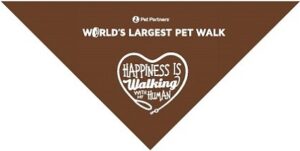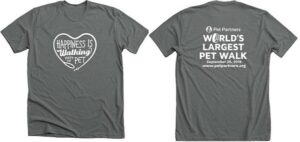 Step Two: Determine what type of walk you and your pets will participate in. You can choose an activity as simple as just you and your pet taking your normal stroll, or you can plan a group or community activity!
During our inaugural event in 2018 we saw so many creative and inspiring ways of participating in the World's Largest Pet Walk:
Animals participating in the walk included cats, horses, and even a steer.
Some of our registered handlers hosted local events with registered Pet Partners therapy animal teams leading the way.
Corporate teams planned pet-friendly workplace walks to celebrate, inviting employees to walk with Pet Partners teams or their own pets.
Friends and neighbors gathered with their pets at local parks and trails.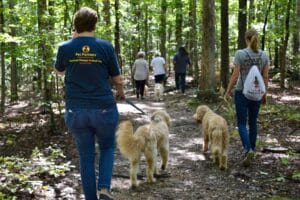 We also enjoyed seeing handlers conduct walks at schools and senior care communities.
We even had people walking all around the world, including in Finland and Romania!
We're eager to see what our walkers plan for this year, and we encourage you to find a great walking option that's perfect for you, your pets, and your community.
Step Three: Be sure to print your official World's Largest Pet Walk bib and wear it during your walk, along with the bandannas and shirts.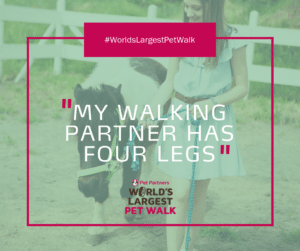 Step Four: On the big day, September 28, take pictures, post selfies of you and your pets, and share your participation on social media. Tag us on social media, and use the hashtags #WorldsLargestPetWalk and #PetPartners so everyone can see what you are doing to stay fit and active with your animal! Last year we loved seeing the wonderful selfies and group photos that were posted to social media.
Step Five: Know you are making a big difference! The funds you or your team raise through the walk will help Pet Partners to recruit, train, support, and insure thousands of loving therapy animal teams who are making millions of visits each year to nursing homes, hospitals, schools, veteran centers, hospice facilities, and many more locations.
As you walk in support of Pet Partners, you are making more therapy animal visits possible. Because of the steps you are taking, more patients will experience the healing comfort of our teams, more students will experience greater confidence by reading to a Pet Partners animal, and more teams will visit veterans who so bravely served our country. The healing power of pets is incredible, and Pet Partners is committed to sharing this power with everyone.
Thank you for your support! Let's get walking!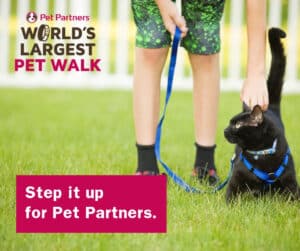 Need some additional ideas? Check out our webinar on ways to make the most of your walking event!
← Back to the blog
---