A Day in the Life of a Pet Partners Therapy Dog
July 15, 2019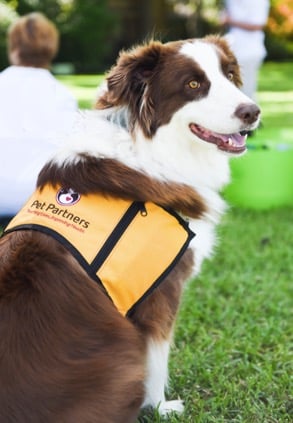 I woke up this morning thinking it was any other day. I ate my breakfast, played with my beloved tennis ball collection, and laid in my favorite sunny spot for a while before my human came over with my brush. Wait a second—I got a bath last night, and now I'm getting brushed this morning. Could it be…?!?
Yes! My human just took my vest out of the closet. I know what this means! She puts it on and I know exactly what to do. My human always tells people I'm a different dog with my vest on. I know that my vest means business! We head outside, I jump in the car, and we're off! I wonder where we're going today? We pass my favorite park, left at the stop sign, under the bridge and then a right. I see the gates…we are going to the nursing home today! I can barely contain my excitement. My human laughs at me when she sees my tail wagging uncontrollably as we near the building. I just can't help it, I love this place!
My human gets me out of the car and gives me time to do my business. She makes sure my paws are wiped clean and that our special badges are on before we walk into the building. We walk up to the reception desk—I know the nice lady here always has a treat for me! After we sign in, it's time to get to work. We start to walk down the hallway. There are so many things to see: chairs with big wheels holding humans, tall poles with hanging bags rolling towards me. I hear talking and beeping from all directions. A tray slides off a cart rolling down the hall, and scrambled eggs fly everywhere. I love scrambled eggs, but I know I have to leave it when my vest is on! My human leads me past the mess and into the first room.
The first man we visit is very friendly. He talks to my human for a long time about how he used to have a dog that looks like me. My human shows the man pictures from our photo album while I sit nicely and get lots of pets. Everyone starts to wash their hands, so I know my time with this man is almost up. I could hang out in this room all day, but duty calls! I'm off to the next room.
When we meet with the next client, a therapist is there. She asks my human if I would be able to go on a walk with the client. I hope my human says yes! I love walks! My human attaches my second leash, gives it to the client, and we're off! The person I'm walking with has to use a funny thing with tennis balls on the bottom to help her walk. She must love tennis balls as much as I do! I stay by her side the whole walk, even though she goes a little slow. The therapist tells my human that this is the farthest the client has walked all week! After our walk, my human brings out one of my tennis balls. The client throws it down an empty hall, and I show her how good I am at playing fetch. I love my job.
After a quick potty and water break, I'm off to see the next client. My human stops outside of a room, but the client says they don't feel like visitors. That's okay! We stand outside and show off a few quick tricks. I do my signature high five and spin combo, and I hear the person in the room laugh. After we say goodbye, we pass the nurses' station. All of the nurses crowd around to give me pets. I feel like a celebrity! After a few minutes of royal treatment, we walk next door.
A nurse tells us that this client doesn't say much, but that he might enjoy some company because he doesn't get many visitors. We walk in and find him lying in bed. After getting permission, my human puts a sheet on his bed, and I hop up. I snuggle with the man while he pets me. The nurse was right—this man doesn't talk. He also doesn't pet me like my human does; he is a little clumsy, but I don't mind. The nurse tells my human that that this is the most responsive the man has been in a long time. I feel so proud.
After this visit, my human tells me it's time to leave. Already?!? Two hours goes by so fast. We leave the same way we came in, saying goodbye to people in the hallway as we go. When I hop in the car, I realize how tired I am. Being this helpful is exhausting work! On the drive home, I dream about where I will get to go next. The children's hospital? The library for a Read With Me™ visit? I can't wait to find out.
When we get home, I jump out of the car, and when we get inside my human takes off my vest and badge. I sit patiently while she goes to the pantry to get one of my favorite special treats that I get after every visit as a thank-you for my hard work. I enjoy my tasty treat, then snuggle on the couch with my human. I am so lucky to be a part of such a wonderful team. It's been a long day, but I can't wait to do it all over again soon.
Would you and your animal enjoy making visits to hospitals, nursing homes, schools, and more? Learn more about becoming a registered therapy animal team.
← Back to the blog
---