Going the Extra Mile: The World's Largest Pet Walk 2022
August 18, 2022
It's that time once again: September 24, 2022 is the 5th annual Pet Partners World's Largest Pet Walk presented by Wellness Pet Company! Last year's event was the largest to date. This year, we want to go the extra mile and have an even BIGGER event! We're excited to have thousands of people and pets walking all over the country and around the world again this year.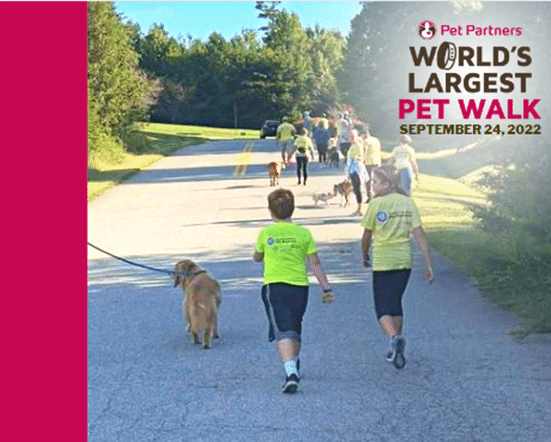 The World's Largest Pet Walk is an official Pet Partners event and signature fundraiser. Whether you walk, run, roll, trot, gallop, or hop, this event is for everyone who wants to enjoy the health benefits of being active with pets, while also supporting Pet Partners and our Therapy Animal Program.
Steps for Taking Part
While we want to go the extra mile with our event this year, taking part in the World's Largest Pet Walk has just a few easy steps!
First Step
Register for the walk. There's no registration fee to take part. But we encourage you to set up your fundraising page, and invite your friends and family to donate in honor of your efforts. If you have a group of folks who will be walking together—such as a Community Partner group, a workplace, a club, or even a group of friends—you should register as a team. You can also choose to join an existing team, or support other walkers and teams.
We provide helpful tips and tools to make fundraising simple and fun for you. We also make it easy with Facebook integration and text-to-donate options, so your smartphone can help you reach your goals with a touch of a button.
We know that fundraising is a lot of effort, and we want to recognize the work done by our walk fundraisers. So we have some great rewards:
Walkers who raise $250 or more will receive both of those, plus select from this prize list!
Second Step
Determine what type of walk you and your pets will participate in. The great thing about the World's Largest Pet Walk is the flexibility to set up the type of walk that works for you.
We've seen numerous creative ways of participating in the World's Largest Pet Walk! Here are a few of them:
Corporate teams have held multiple walks on different campuses. Some companies that are still working remotely hold pet-friendly virtual meetups on Zoom or other platforms to kick off their participation, encouraging employees to log in to the group call with their pets, and asking everyone to share their plans for how they will participate in the World's Largest Pet Walk.
Friends and neighbors organize gatherings with their pets at local parks and trails.
Community Partner groups host large community events at public gathering spaces, and some have organized events at facilities where they visit with their registered Pet Partners therapy animal teams leading the way.
Some people hold personal events with their pets where they take long hikes or go swimming to engage in physical activity.
Third Step
Be sure to print your official World's Largest Pet Walk bib and wear it during your walk.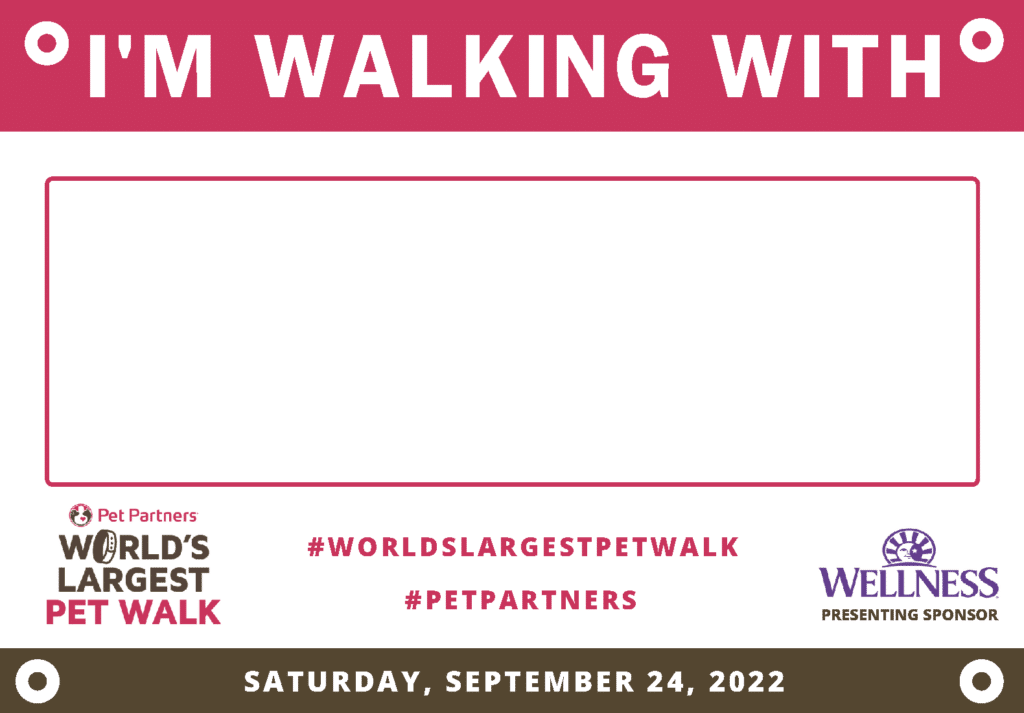 Final Step
Take your walk on the big day, September 24! And remember to take pictures and videos, post selfies of you and your pets, and share your participation on social media. Tag us using #WorldsLargestPetWalk and #PetPartners so others can see what you are doing to celebrate the World's Largest Pet Walk.
For more tips on how to participate, contact Ash at 425-679-5535 or AshleyD@petpartners.org for great suggestions or customized ideas just for you.
Why a Pet Walk?
Increasing a person's physical activity level significantly reduces their risk of chronic diseases and related risk factors. And physical activity has numerous other health benefits, such as supporting positive mental health and healthy aging, so it's one of the most important actions people can take to improve their overall health. Walking and getting outside for physical activity of any kind is an easy way for people to engage in regular physical activity, and walking with pets provides additional reason and motivation.
Pet Partners encourages walking for healthy communities through Walk With Me™, our program initiative designed to integrate walking into the overall health benefits offered through therapy animal visits. The World's Largest Pet Walk expands that idea to everyone by encouraging people and pets everywhere to get out for movement and exercise and to demonstrate the benefits of walking with pets.
And while we call it a pet walk, we want to ensure that people who have limited mobility or use mobility devices can participate as well. People who use wheelchairs and mobility scooters, as well as those who use assistive devices like walkers, crutches, and canes, can also benefit from physical activity that involves animals, and we encourage walk events that support their participation. We want everyone to have the opportunity to be part of this worldwide event!
Also, the World's Largest Pet Walk is open to walkers and animals of all kinds—you don't need to be a registered therapy animal team. It's for every person, every age, and every level of walker. It's also for every pet who wants to walk with their people. Past years have seen plenty of dogs walking, but we've also had cats, horses, alpacas, rabbits, guinea pigs, birds, and even a steer!
The World's Largest Pet Walk is also a way to raise crucial financial support for the vital services Pet Partners provides through our Therapy Animal Program. Funds raised by our walkers supports us in registering, serving, and insuring our therapy animal teams, and the walk brings attention to the work of Pet Partners and our volunteers. The benefits of the World's Largest Pet Walk extend far beyond this one day.
2022 Walk Champion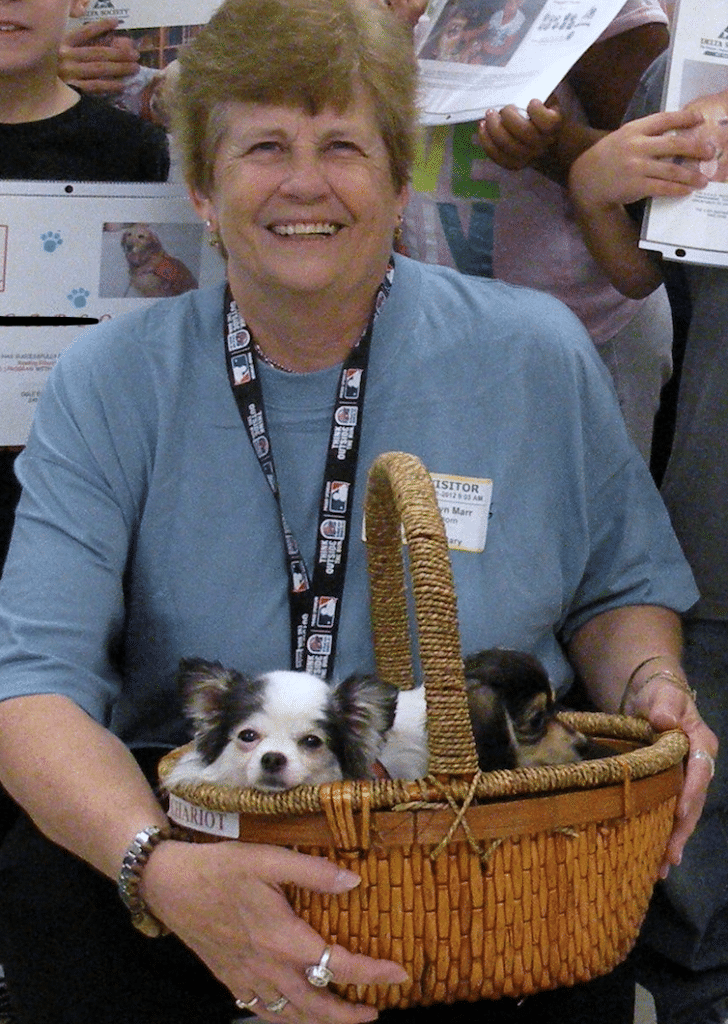 For this year's World's Largest Pet Walk, our Community Partner group Pet Partners of Greater Dallas is acting as the Walk Champion in honor and memory of one of their most dedicated volunteers, Carolyn Marr. Carolyn was involved with therapy animals in a variety of ways for several decades and was the founder of Pet Partners of Greater Dallas. The World's Largest Pet Walk was one of her favorite events. Sadly, she passed away shortly after the 2021 walk. Read more about Carolyn's activities with Pet Partners and why she is being honored for this year's walk.
Walking Your Own Way
One great thing about the World's Largest Pet Walk is that it's designed for participants to set up their own walking times, routes, and details. You choose how you wish to participate—no need to get up early or be in a particular place at a particular time! You can take a leisurely stroll in your neighborhood or a challenging hike in the wilderness. Walk independently or invite family and friends to join you. Start at daybreak or stretch your legs after dinner.
If you would like to find other walkers in your area, reach out to Ashley at AshleyD@petpartners.org.
For those who participate in fundraising, there are all of the benefits of a traditional charity walk event: cool pet bandannas and T-shirts, fun photos with your walking bib, and a sense of accomplishment in supporting a cause that you believe in.
This is also an opportunity to show your community how important therapy animals are and how they can benefit people everywhere. Inviting people to join you for your walk event or to support you through donating is a great way to engage people with the work of our Therapy Animal Program and our volunteer teams. We even have a variety of resources that you can use to spread the word and get people involved.
Ready to go the Extra Mile
Now that you know how easy it is, you're ready to get going! Go to the World's Largest Pet Walk site to register and plan your walk. Then get out on September 24 in support of Pet Partners.
We extend heartfelt thanks to our World's Largest Pet Walk sponsors this year:
Presenting Sponsor
Titanium Sponsor

Blue Shield California is an independent member of the Blue Shield Association.
← Back to the blog
---