Pet Partners 2019 in Review
December 20, 2019
As we approach the end of this momentous year, we want to take a look back at what 2019 meant for Pet Partners and our mission. It's been quite a year and we're proud of all we were able to accomplish together:
We launched our AACR credential for our registered therapy animal teams, training and credentialing our teams to provide emotional comfort and support to people affected by the impacts of crisis events. More than 200 Pet Partners teams have earned their AACR credentials as of this writing and some have already deployed to crisis events.
We held the Partnering with a Purpose conference in San Antonio, TX, providing handlers, educators, researchers, and practitioners in the field of AAI the opportunity to learn from and network with each other, and giving us the opportunity to learn how we can better serve the field.
We worked with HABRI to fund important research into AAI and provide data on the effects of the human-animal bond in a range of settings and circumstances.
We launched four chapters in Arizona, Illinois, North Texas, and Southern California, providing locally-based staff and resources for volunteers and supporters in these areas.
We signed an agreement with Veterans Administration to increase access to animal-assisted interventions throughout the VA health care system and provide veterans with volunteer opportunities.
We brought therapy animal teams to Capitol Hill in Washington, DC for our first Meet the Pets advocacy event, intended to help lawmakers and staff members learn more about AAI and the importance of standards for therapy animals.
We continued to expand our international program, bringing the number of countries with Pet Partners teams to more than a dozen.
We held our 2nd Annual World's Largest Pet Walk, with hundreds of people across the U.S. and in other countries taking walks with pets to demonstrate the importance of walking and movement for health, and raising more than $19,000 to support Pet Partners and AAI.
We joined the Golden State Warriors for a special community event in advance of the NBA championship series, demonstrating why Read With Me is important to supporting children's literacy.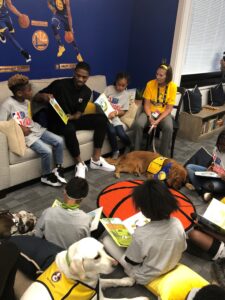 The Cancer Care Fund provided financial assistance to 23 therapy animals with cancer.
We started our Facebook Live series of events to further engage with our volunteers, supporters, and those interested in learning more about Pet Partners and the power of the human-animal bond.
We launched this blog to provide in-depth information and education about our programs, activities, and the field of AAI.
We couldn't have done all of this without our volunteers, advocates, donors, and supporters. Thank you for your continued support of our work and our mission. We look forward to even more achievements in AAI and expanding the impact of the human-animal bond in 2020.
← Back to the blog
---