Returning to Therapy Animal Visiting During COVID-19 (updated)
March 4, 2021
Originally published May 19, 2020; updated March 4, 2021
This post was originally published in May 2020, when we had early optimism about the possibility of returning to more typical therapy animal visits. Over the past 10 months we've seen the severity of the COVID-19 pandemic go through recurring waves of increasing and reducing, and onsite visits have remained infrequent in most areas. Now, as vaccination increases and some areas are choosing to loosen restrictions on public activity, in-person therapy animal visitation is likely to increase again. We wanted to revisit this information about returning to visiting, and update with some of the new information and options that have developed as we've adapted to the pandemic.
This has been a time of significant stress and trauma, and the effect of the human-animal bond is especially vital in helping people. Therapy animals have an important role to play as we return to more typical activities. But it's also crucial that resuming therapy animal visitation is done in a safe and sustainable way.
All therapy animal visits depend on the comfort of both the team and the facility, as well as local directives. If a team doesn't feel ready to return to visiting, or a facility is not ready to re-open to volunteers, or if local directives don't allow non-essential personnel, of course everyone should wait to start visiting again. The information below is intended to provide guidance for teams and facilities who are ready to start therapy animal visits again and are able to do so based on conditions in their area.
Emphasizing Safety
When facilities welcome Pet Partners therapy animal teams, they are welcoming teams that meet the highest standards for client safety, at any time. The Pet Partners infection prevention guidelines are designed to minimize the risk of spreading all unwanted germs, including COVID-19.
Our standard infection prevention protocols for registered Pet Partners teams and visiting include the following:
Rigorous hand hygiene for handlers as well as everyone who touches the therapy animal, both before and after touching.
Grooming and bathing for all therapy animals no more than 24 hours before visits.
Use of non-shared barriers when therapy animals are placed on client beds or chairs.
Following posted precautions and not entering any rooms with posted airborne, droplet, or contact precautions.
Animals must be in good health to participate in visits, including being free of parasites.
Handlers must also be in good health to visit, and may not visit if they have any potentially contagious health issues or have been exposed to a contagious disease.
Raw meat food and treats are not permitted, since therapy animals often interact with people whose immune systems are not optimal.
All Pet Partners therapy animals (when appropriate for the species) are required to be vaccinated against rabies, consistent with recommendations by SHEA for animals in healthcare facilities.
For more information on our infection control practices, please see our blog post that goes into detail about this important topic.
These practices required by our Therapy Animal Program mean that our teams bring a high degree of infection mitigation with them on every visit, so they are already positioned to address many of the infection control needs that will be required to start therapy animal visits again.
Our standards of practice provide a framework for any facility or program to incorporate therapy animals safely and can help facilities as they prepare to start therapy animal visitation again.
Special COVID-19 Considerations
Even with our standard practices in place, there are special considerations surrounding COVID-19 and therapy animal visits. We're offering the following guidance to our teams and the facilities where they visit:
Handlers and facilities are responsible for understanding and following the guidance of their local government. Guidelines and restrictions vary between states, counties, and municipalities, and these could have an impact on therapy animal visits.
The CDC recommends that handlers and participants wear masks during therapy animal visits, and Pet Partners recommends following the CDC's guidance, in addition to the preferences of each individual facility.
We recommend prudent and appropriate social distancing during visits, which is also addressed in the CDC guidance. Therapy animal visits assume some level of contact between clients and the therapy animal team, and handlers need to maintain physical nearness to their animals as a critical component of YAYABA™ (You Are Your Animal's Best Advocate) and animal welfare. When this level of contact and proximity isn't necessary, teams should maintain appropriate distances from other people.
Bringing Therapy Animal Visits Back
In addition to our guidance on how to safely resume visiting, Pet Partners is taking steps to make therapy animal teams available to their communities as circumstances permit. We're providing support and resources to our currently registered teams so they can return to visiting when they feel it's safe for them to start again, and possible to do so in their communities. We're also working with our volunteer leaders and local groups to recruit and train new therapy animal teams to help meet the expanded need for therapy animal visits in the coming months.
If circumstances don't permit in-person therapy animal visits at particular locations or facilities just yet, facilities can still take advantage of animal-related engagement (ARE) to bring the benefits of animals to their clients and staff. ARE activities can also serve as supplements to in-person visits when there aren't enough teams available (whether due to restrictions on visiting or lack of registered teams in an area) to meet demand for visits.
One option for ARE is working with therapy animal teams to hold virtual visits through recorded or live videos. Many facilities have chosen to use videoconferencing software to have their regular therapy animal teams visit with clients through online connections when they can't visit onsite. And facilities can now request virtual visits from Pet Partners teams through our volunteer opportunity directory.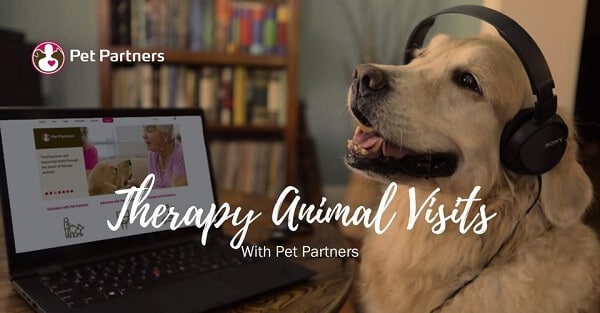 There are a variety of other alternative visit and engagement activities that teams and facilities can work with to keep the human-animal bond strong. These include window visits, parades, outdoor education, and creative arts engagement such as letter-writing and craft projects. Facilities and handlers have shown amazing creativity and innovation in keeping visiting and engagement going in some way; consider what your team can offer, or your facility can manage, and develop new types of engagement that support your needs and work with your capabilities.
Schools, libraries, and parents may be looking for ways they can keep students engaged with learning while remote schooling is still a factor. Our We Are All Ears reading project has children set goals for reading to pets and can encourage regular reading—it's a great supplement to other learning and can help kids maintain enthusiasm for reading. It can also bridge the gap until Read With Me visits are available again.
We're also actively working to add more qualified teams to our Animal-Assisted Crisis Response program. This pandemic has included trauma and extreme stress for many people. Having trained and credentialed teams available to provide emotional comfort and support to people will help strengthen communities as we move to the next phase of this situation.
There are many in our communities who could benefit from the love of a therapy animal during these challenging times. We all have a responsibility to ensure interactions with therapy animals promote health and safety through rigorous infection prevention. We're ready to work with facilities, therapy animal teams, and communities to ensure they can bring the power of the human-animal bond to people again, as safely as possible.
---
Facilities interested in our full guidelines for resuming therapy animal visits can find that information on our Pet Partners at Your Facility page. 
Pet Partners handlers can find the guidelines for resuming visits in the Resource Library in the Volunteer Center.
← Back to the blog
---