Step by Step: the World's Largest Pet Walk 2020
August 27, 2020
September 26, 2020 is the 3rd annual World's Largest Pet Walk! We're excited to once again see thousands of people and pets walking all over the country and around the world.
The World's Largest Pet Walk is an official Pet Partners walking event and signature fundraiser. This event is for everyone who wants to enjoy the health benefits of being active with pets, while also supporting Pet Partners!
Special thanks to our National Presenting Sponsor VCA and our Supporting Sponsor Blue Shield of California.
Why a Pet Walk?
Increasing a person's physical activity level significantly reduces their risk of chronic diseases and related risk factors. Because physical activity has numerous other health benefits—such as supporting positive mental health and healthy aging—it's one of the most important actions people can take to improve their overall health.
Pet Partners encourages walking for healthy communities through Walk With Me, our program initiative designed to integrate walking into the overall health benefits offered through therapy animal visits. The World's Largest Pet Walk expands that idea to everyone by encouraging people and pets everywhere to get out and walk in order to demonstrate the benefits of walking with pets.
It's also a way to provide crucial financial support for the vital services Pet Partners provides through our Therapy Animal Program, by raising funds as part of the walk. The benefits of the World's Largest Pet Walk extend far beyond this one day.
And the World's Largest Pet Walk is for anyone who wants to participate—you don't need to be a registered therapy animal team. It's for every person, every age, and every level of walker. It's also for every pet who wants to walk with their people. Past years have seen plenty of dogs walking, but we've also had cats, horses, guinea pigs, and even a steer!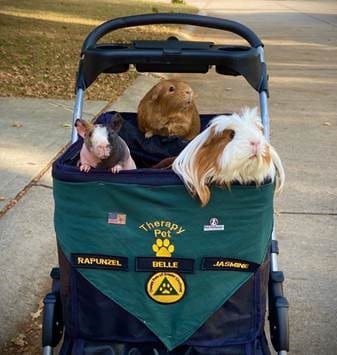 Walking Safely
The health benefits of the World's Largest Pet Walk also include ensuring that the health of everyone taking part is protected. Circumstances this year are somewhat different from previous years due to COVID-19. Social distancing and wearing face coverings are a must for the walk this year, to ensure everyone stays safe.
One great thing about the World's Largest Pet Walk is that it's designed for participants to set up their own walking times, routes, and details. This means that every walk event can be held in ways that allow safety measures such as small groups and spreading out to maintain safe distances.
You choose how you wish to participate—no need to get up early or be in a particular place at a particular time! You can take a leisurely stroll in your neighborhood or a challenging hike in the wilderness. Walk independently or invite family and friends to join you. Start at daybreak or stretch your legs after dinner.
For those who participate in fundraising, there are all of the benefits of a traditional charity walk event: cool pet bandannas and T-shirts, fun selfies with your walking bib, and a sense of accomplishment in supporting a cause that you believe in.
Steps for Taking Part
It's so easy to take part in the World's Largest Pet Walk! Just follow our steps below, and you'll be all set to take steps on the day of the walk.
First, register for the walk, set up your fundraising page and invite your friends and family to donate in honor of your efforts. Be sure to sign up as a team if you have a group of folks who will be walking together.
Walkers who raise $50 or more will receive a pet bandanna; those who raise $100 or more will receive a pet bandanna and an official World's Largest Pet Walk T-shirt; and walkers who raise $250 or more will receive all prizes plus a Pet Partners leash!
Second, determine what type of walk you and your pets will participate in. You can choose an activity as simple as just you and your pet taking your normal stroll, or you can plan a socially-distanced group activity!
We've seen numerous creative ways of participating in the World's Largest Pet Walk during this time! Here are just a few of them:
Corporate teams are planning pet-friendly virtual meet-ups on Zoom or other platforms to kick off their participation, encouraging employees to log in to the group call with their pets and share their plans for how they will participate in the World's Largest Pet Walk.
Friends and neighbors are organizing small gatherings with their pets at local parks and trails.
Some of our Community Partner groups are hosting Pet Parades outside of facilities they miss visiting, with their registered Pet Partners therapy animal teams leading the way.
We've even had people walking all around the world, including in Finland, Colombia, and Romania!
Third, be sure to print your official World's Largest Pet Walk bib and wear it during your walk, along with the bandannas, shirts, and leashes.
Finally, on the big day, September 26, take pictures and videos, post selfies of you and your pets, and share your participation on our Pet Partners social media. Tag us using #WorldsLargestPetWalk and #PetPartners so others can see what you are doing to celebrate the World's Largest Pet Walk!
For more tips on how to participate, check out this recording of our Facebook Live session for great suggestions.
Take that First Step
Now that you know how easy it is, you're ready to get going! Go to worldslargestpetwalk.org to register and plan your walk. Then step out on September 26 in support of Pet Partners.
← Back to the blog
---