Stories of YAYABA™ in Action
July 15, 2019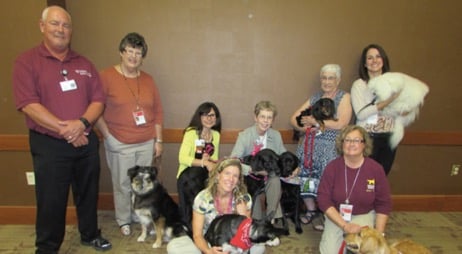 One of the principles that makes the Pet Partners Therapy Animal Program the gold standard is YAYABA™, which stands for You Are Your Animal's Best Advocate. YAYABA is your most important responsibility as a handler, because your animal's welfare should always be your top priority.
Practicing YAYABA includes allowing your animal to have breaks throughout visits to de-stress, drink water, or take a walk or have playtime; adhering to the maximum visit length of two hours per day; and instructing clients on how to appropriately pet your animal. YAYABA can also go beyond the basic tenets outlined in the Pet Partners Handler Guide to advocate for your animal's welfare in specific situations. Take a look at a few amazing examples of YAYABA in action.
Shana and Rosie
Shana Horn and her mini Labradoodle, Rosie, stay busy while on summer breaks from college volunteering at The Jewish Home at Rockleigh, The New York State Psychiatric Institute (Columbia University), and Friendship Circle of Bergen County. Shana and Rosie rely on public transportation to navigate their dense metropolitan area. Unlike assistance animals (such as guide dogs and service dogs), therapy animals like Rosie do not automatically receive public transportation access rights. In order for her to ride on the bus to therapy animal visits, the law stated that Rosie had to be crated, which caused her a lot of stress. As a Pet Partners registered handler, Shana knew that human health benefits that come from a therapy animal visit should never be at the animal's expense. She knew she had to be Rosie's advocate.
Shana reached out to State Senator Loretta Weinberg. With Weinberg's help, New Jersey Transit allowed Rosie to travel "to work" without a crate because Shana and Rosie were a registered therapy animal team. Shana's example of advocacy also benefits other registered therapy teams in New Jersey who are interested in traveling without containing their animals. Other interested handlers in New Jersey can present their information to a state representative for evaluation and will receive a letter from New Jersey Transit if they're granted access. Shana's efforts prove that being your animal's best advocate can cause far-reaching positive change. Way to go, Shana!
Jan and Ruby
Jan Nowicki presented another prime example of YAYABA in action after policy changes were introduced at the hospital where she and other therapy animal teams visited. Handlers were told that as volunteers, they would have to park in the employee parking section at the furthest corner of campus. On top of this, animals would not be allowed on campus shuttles. Jan worried that it would be impossible to keep the animals clean and dry in inclement weather, or cool in extreme heat while walking across a large blacktop and cement parking lot. Following the principles of YAYABA, Jan reached out to Pet Partners Programs staff for guidance and support.
Jan secured a meeting with key hospital personnel and educated them about Pet Partners Policies and Procedures, the Code of Ethics, and insurance information. Ruby also attended the meeting, which made a winning impression on the hospital staff. As a result of this meeting, the hospital allows teams to park closer to the doors while respecting the needs of patients and visitors. Special placards for car windshields are provided for volunteer cars, and handlers are allowed to use valet services. Additionally, therapy animals have their own ID badges so that hospital staff can easily identify animals that are authorized to be in the facility.
In the following year, Jan and Ruby and their fellow animal therapy teams doubled their number of visits to the hospital. Jan shared a few thoughts about this outcome: "I'm pleased to inform you that, through a difficult situation, we now have better relations with the facility than ever before in the three years we've been visiting there…[t]hanks again for your superior training and support. I wouldn't want to work through a situation like this without Pet Partners' backing and support."
Geralyn and Pearl
Geralyn Hawk was a longtime volunteer with the Pet Pals visiting program at University Hospitals in Cleveland, Ohio. She visited with her dogs but had recently become a registered therapy team with her cat, Pearl. However, University Hospitals was reluctant to allow Pearl to visit. They had no cats in their volunteer corps and were concerned about possible client allergies and safety issues with cats in comparison to dogs. Geralyn asked Pet Partners for help to prove that a therapy cat could be just as safe and effective as a therapy dog.
Pet Partners Programs staff worked with Geralyn to provide evidence of Pet Partners' standards for infection control and team evaluations. Geralyn held a demonstration of her grooming and infection control routines with Pearl, including regular bathing, hypoallergenic wipes, sanitary wipes used on paws, and hand hygiene routines. For the first couple of years, Pearl did not visit with patients, but was allowed to attend doctors' meetings, a class for medical students highlighting the benefits of animal-assisted therapy, and a library visit during finals week. Geralyn was determined to show that Pearl could be a vital part of any visiting program.
After a couple of years, Geralyn and Pearl were given the opportunity to attend a large event with a DJ, inflatable slide, popcorn maker, around 100 guests, and five therapy dogs. "That was going above and beyond what a therapy cat should have to accept," Geralyn said, but she came prepared for the challenge. "I put Pearl's carrier out so she could have a 'safe place' to go if she felt she needed it. Nothing fazed her. She walked around like she owned the place. The unknown dogs didn't faze her, she let everyone hold her, she never once went in her carrier." Pearl clearly demonstrated that she wasn't an ordinary cat–she was a Pet Partners registered therapy cat.
With so many successful visits, Pearl was finally granted full visiting privileges as the only therapy cat at University Hospitals. Geralyn says, "Pearl is fulfilling her calling and I am enjoying sharing my wonderful cat with patients and staff to brighten their day." By demonstrating that Pearl could safely visit patients while spreading positivity, this team is a perfect example of how the principle of YAYABA benefits not only therapy animals, but also those supported by their presence.
How to Be Your Animal's Best Advocate
If you are a registered Pet Partners handler, you can find detailed information about practicing YAYABA during your visits in your Pet Partners Handler Guide. Pet Partners also offers advocacy alerts that allow you to take action and advocate for the human–animal bond on a broad scale. Sign up to be a Pet Partners advocate today!
← Back to the blog
---