Therapy Animal Team Registration Ratings Explained
June 7, 2021
by Jesse Haas, National Director, Programs
If you're a registered Pet Partners therapy animal team in the U.S. or Canada, you know that you received a team rating when you completed your team evaluation, and that it's listed on your acceptance letter and team ID badge. And if you're a staff member at a facility that receives visits from Pet Partners teams, you might be aware of team ratings and that they apply to how teams visit. But the specifics of team ratings can sometimes be unclear or misunderstood. We thought it would be helpful to provide an overview of team ratings and how they can apply for both teams and facilities.
The Purpose of Team Ratings
Every therapy animal team in the U.S. and Canada that passes the Pet Partners team evaluation receives a team rating, either Predictable or Complex. Before any further explanation, it's crucial to remember that all teams are equally valuable, not only to the Pet Partners organization, but to the facilities they visit. Every Pet Partners team making a visit is providing a vitally important service to their community, facility, and clients, no matter what their team rating is. Teams of both ratings are so needed and appreciated in their communities!
The team rating is not a value judgment on the team and shouldn't be viewed that way. Rather, the team rating is intended to set each team up for success by helping them navigate facility settings and visit types, and ensure the welfare of therapy animals and clients alike. Visiting according to their rating is not only a requirement for Pet Partners teams to reduce the risk of animal stress or incident, but is also intended to make the visit comfortable and enjoyable for the handler, the pet, and those they visit with.
Team ratings also help facilities gauge whether a team is a good fit for their setting and client population, and supports safety for clients and staff during visits.
Putting Team Ratings in Context
Team ratings are assigned at the end of a team's evaluation, and that rating remains in place for their entire two-year registration period. (A team may choose to evaluate again during that period for a rating change.) Ratings are based on performance on certain evaluation exercises. Which exercises matter for rating are denoted on the score sheet, which teams can review prior to their evaluation. We also provide an evaluation overview for each species we register, which can help handlers understand what to expect at the evaluation and the skills and aptitudes that will be evaluated.
Performance on these exercises is scored for both human and animal, so handlers should remember the rating is both earned by and applies to the team unit. It's not uncommon for handlers to say that their therapy animal passed the evaluation with "the highest rating," but this isn't entirely accurate; the handler's performance in the evaluation is equally important. And, as mentioned above, the rating is not a value judgment about the team, but a reflection of where the team will be best suited to visit.
Teams with Predictable ratings must visit in predictable settings. These settings are defined by two key factors:
Moderate to high staff involvement: In predictable settings, a staff person welcomes the team and generally accompanies the team throughout the visit, or is at least in a nearby area providing some degree of oversight for the visit. For example, higher levels of staff involvement are common in classrooms, where a teacher and teacher's assistant may be present the entire time. This might also occur in residential care facilities, where teams are set up in a common area, with a staff person present, and residents come visit the team (as opposed to teams visiting residential rooms for one-on-one visits).
Quiet/less active facility environment: These are places that have low or predictable activity levels, a low level of anticipated interactions, and quieter or less-active residents or clients. These types of environments also have lower levels of noise from things such as machines, school bells, or staff activity. For example, a school reading visit where the students visit with the team one at a time with supervision can be a predictable setting, as could a visit to a hospice facility where a staff member guides the team to the rooms they will visit and the team is sitting quietly with the client and their loved ones.
Teams with Complex ratings can visit in predictable settings if they choose, but they also have the ability to visit in complex settings, which are defined by two key factors:
Lower staff involvement: Complex settings have staff who may greet or check in volunteers, but then allow them to move through the facility without direct supervision. Staff might provide a list of patients, clients, or students who should receive a visit that day, or allow the team to navigate the facility without even that level of direction. This requires teams to make more of their own judgment calls about individual visits, as well as understand where they are going and keep an eye on the visit length and time.
Moderate to high activity: These settings may have clients, patients, or students who are louder, and their interactions with animals may be harder to anticipate. There could also be multiple people visiting with the team at one time, requiring more management of activity during the visit. There might be loud noises that happen randomly, lots of equipment, and other distractions that the team can't necessarily predict.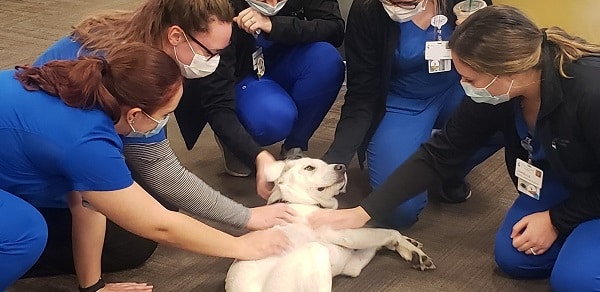 These criteria and how they apply to team ratings also help handlers determine where their team can be most successful in their visiting. For example, a team with a Predictable rating and a therapy dog who thrives on lots of attention may not be a good fit for a school reading visit, but would do well in a classroom setting where interactions with students are supervised. A team with a Complex rating and a therapy cat who likes individual interactions might not enjoy group visits at an assisted living facility, but can easily manage room to room visits with minimal supervision.
And in these examples, each team is meeting a specific need for visits in their community, and is valuable for their ability to meet that need. This is why team ratings are not about value judgments.
Applying Team Ratings to Visits
No facility type or setting is always predictable or complex. For example, one school may be predictable while another is complex. Even within a single school, one classroom with a structured activity for the team and teacher supervision could be predictable, while a different classroom where students can visit with the team without supervision is complex. At hospitals, a supervised room by room visit in a quiet ward could be predictable, while a visit in support of ICU staff may be complex.
Handlers are strongly encouraged to speak to facility staff about their involvement in managing therapy animal visits and their facility's level of activity before committing to a visit. An even better option is for the handler to make a short visit to the facility without their animal to learn more about the setting and ensure their team rating is a good match.
Similarly, many teams don't retain the same rating throughout their therapy animal career. It's common for newer teams to receive Predictable ratings initially, but receive Complex ratings as they grow in experience. However, new teams do not automatically receive Predictable ratings—many teams do receive a Complex rating at their first evaluation. On the other hand, experienced teams who have received Complex ratings and visited in complex settings for years may receive a Predictable rating as the animal ages and no longer thrives in higher activity environments.
This capacity for change and the impact it can have on a team's visiting ability is why Pet Partners requires our therapy animal teams to re-evaluate every two years. We recognize that a team's abilities or an animal's interest and activity around visiting might shift, and we want to ensure that every Pet Partners team is able to visit safely. Regular evaluation of their skills and aptitude helps ensure safe and enjoyable visits for everyone.
Additional Resources
For our teams, we have additional resources available in our Resource Library; log in to your Volunteer Center account to view this information. You can also find more information about team ratings and facility settings in the Pet Partners Handler Guide.
For facilities, we have a resource to help guide you in applying team ratings. You might also wish to download our Facility Toolkit for more information on setting up and managing a therapy animal visiting program.
While team ratings are important to teams, facilities, and the entire Pet Partners organization, we know they can be confusing at times. We hope this information has helped you better understand team ratings and how to apply them. If you have any questions, please don't hesitate to contact us—we're happy to help!
← Back to the blog
---