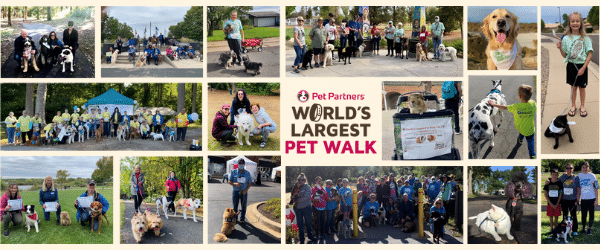 World's Largest Pet Walk 2021: The Biggest Yet
October 5, 2021
The 4th annual World's Largest Pet Walk took place on Saturday, September 25, and it was an amazing event! People across the U.S. and around the world participated, showing their support for therapy animals and the benefits of walking with pets. Thank you to everyone who registered, everyone who walked, and everyone who has supported our walkers and walking teams!
The Stats on Those Taking Steps
This year's walk was the most successful yet! The number of registered walkers more than doubled from 2020, and the number of walking teams increased significantly. We also had the participation of more Pet Partners local volunteer Community Partners and Community Groups than ever before. People walked in nearly all 50 states, plus the District of Columbia. And there were walkers in 10 other countries as well!
Registered Walkers: 694
Registered Walking Teams: 116
Community Partners/Community Groups participating: 38
Additional Countries with Walkers:
Argentina
Australia
Canada
France
Great Britain
Greece
Malaysia
Romania
Slovakia
Spain
Amount raised: more than $70,000 so far!
Visit our leaderboard to see information about our top walkers and top teams this year.
Thank You to Our Corporate Supporters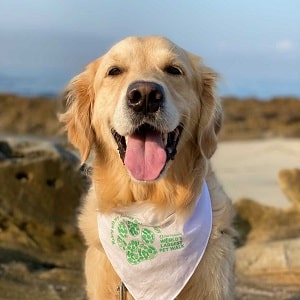 We were fortunate to have the participation of several corporate supporters this year. Our sincere gratitude goes to them for their dedication to therapy animals and the Pet Partners mission.
We're also grateful to PetPlate, who pledged to donate $1 for every like, comment, and share made on their special World's Largest Pet Walk Facebook and Instagram posts through September 25. Participation in their social media challenge raised $991 for our Therapy Animal Program.
Leading the Way: Our Walk Champions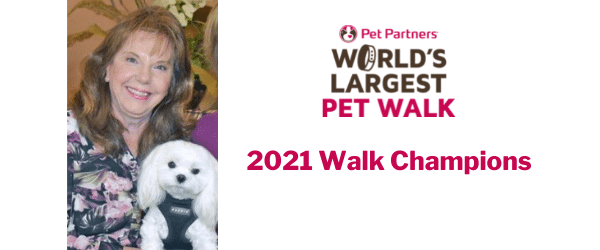 We're pleased to honor the Walk Champions for the 2021 World's Largest Pet Walk, Roslyn Lindeman & Abbey! This dedicated therapy animal team not only brings comfort, hope, and healing to their community through their visits, but they also led the way for this year's walk, raising more than $10,000! Read about their work as a therapy animal team and why they were honored to be this year's Walk Champions on our Featured Teams page.
Continue the Celebration
We're thrilled with the success of this year's walk, but we're not done yet: fundraising continues through the end of 2021, with some of our local groups planning to hold their walks in November.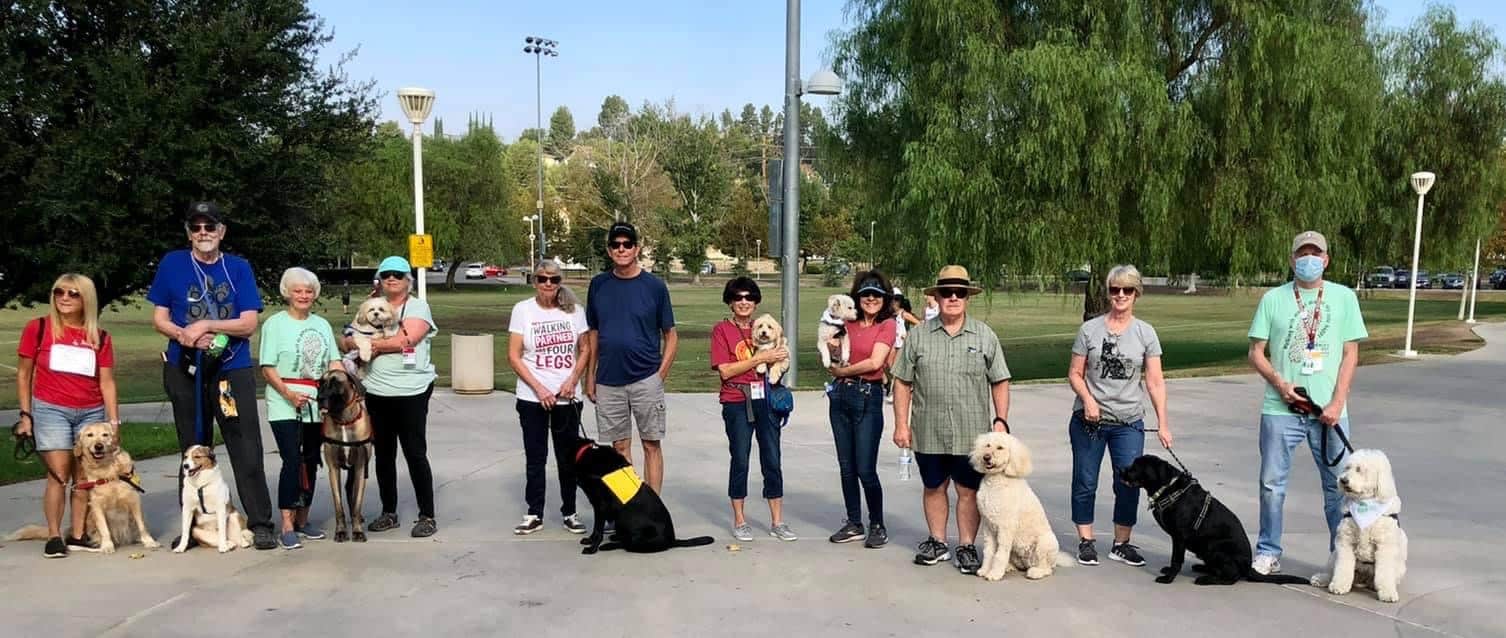 We're still aiming to reach our fundraising goal of $100,000! There's still opportunity to donate in support of a walker or walking team: visit worldslargestpetwalk.org to make a donation.
You can see photos and videos from the walk on social media using #WorldsLargestPetWalk.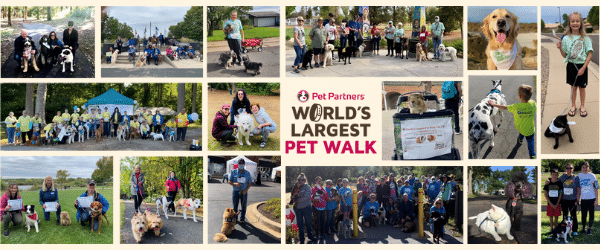 Please join us on Thursday, October 14 at 3 p.m. ET/Noon PT on Facebook Live for a special celebration of the success of the 2021 World's Largest Pet Walk! We'll share great photos and stories from walk day, and recognize our top teams, fundraisers, and sponsors with Sneaker Awards.
And be sure to join us for the 5th annual World's Largest Pet Walk on September 24, 2022!
Our thanks again to everyone who walked, everyone who donated, and everyone who helped spread the word about this year's walk. Your support of our Therapy Animal Program means even more people can benefit from the powerful effects of the human-animal bond.
← Back to the blog
---