2020 in Review: A Time of Challenge and Innovation
December 22, 2020
There's no way to avoid dramatic statements as we look back on 2020: This was the most extraordinary year in the history of Pet Partners, as it has been for so much of the world. The COVID-19 pandemic has changed life and activities for everyone, and the year we've ended up with looks very different from the one we had planned.
And yet, it forced us to consider how we could continue to bring the benefits of the human-animal bond to people despite the restrictions of the pandemic, and find new ways to support our therapy animal teams and those who benefit from their visits. Challenges often require innovation, and this year helped us expand our approach and philosophy about our mission in order to ensure we could still support animal-assisted interventions (AAI).
When distancing and isolation started in March, our volunteers started finding new ways to keep connections with clients right away. Their methods included online visits through meeting software; window visits outside of facilities and car parades; and using a huge variety of creative skills and media to produce things like cards, photo collages, and video animations featuring their therapy animals. To support these efforts, we created our #MorePetsLessStress campaign on social media to share and bring attention to their activities. We also created a Facebook group, Therapy Animal Visits with Pet Partners, where volunteers can share their photos and videos, and facilities and clients can make connections.
To learn more about how our volunteers continued their work in bringing the benefits of therapy animals to people despite the pandemic, read the feature story (page 4) in the Fall 2020 issue of our magazine, Interactions.
With Read With Me visits on hold due to the pandemic, and with education at home happening for so many families, we wanted to ensure that children could still get the benefits of reading to animals. In April we launched We Are All Ears, a Worldwide Read with Pets Project. The benefits children get from reading to animals can still apply when they're reading to their own pets, and We Are All Ears provides a framework, resources, and fun tools to help families create their own reading programs at home. In October our supporters at Elanco partnered with us to help us expand the reach of We Are All Ears.
As we watched our volunteers hold virtual visits and create animal-themed crafts to share with clients, we began to wonder about whether data supported benefits for these types of activities. As an organization that prizes data and peer-reviewed evidence as the foundation of our program, we felt it was important to know if there was still value in activities involving animals that didn't include in-person engagement. We launched a review of the scientific literature on the topic, and were encouraged by the results. In May, we released a white paper on Animal-Related Engagement (ARE). ARE provides additional ways for teams and facilities to ensure they can continue bringing the benefits of animals to clients, even during times when visits aren't an option. It will be an important option for supporting people with AAI as we continue to deal with COVID-19 restrictions.
We wanted to be sure we could maintain and expand our connections with our volunteers and supporters, and found new ways to communicate. Forced by the pandemic to cancel our planned Community Partner Town Hall in Dallas in May, we instead held a virtual event and a series of follow-up listening sessions with our local groups to learn about what they're doing and how we can better support them during the pandemic and beyond. And the Learning Experience Team in the Therapy Animal Program created a series of webinars and training events to better support our volunteer leaders (volunteer instructors and team evaluators), as well as holding weekly online "office hours" for these vital leaders to ask questions and get assistance.
We took some initial steps into live online informational events in 2019, and we expanded those significantly this year through Facebook Live. Our sessions included a variety of topics, including the following:
Volunteer-focused information such as managing therapy dog stress and volunteering with less-common therapy animal species.
Information related to the field of AAI as a whole such as infection control and the research supporting therapy animal visits.
Education about Pet Partners activities such as AACR and program standards.
Celebrations of special events such as National Therapy Animal Day and World's Largest Pet Walk.
An ongoing series with leaders in AAI discussing their areas of expertise.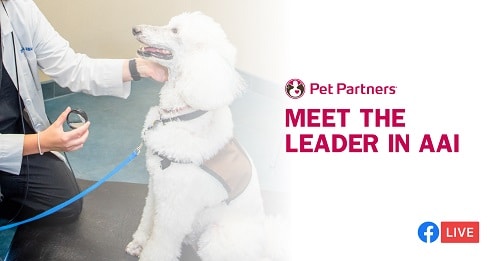 These live events are also recorded and available on our YouTube channel for viewing any time.
Operations for our Therapy Animal Program required some adjustments as well. In the spring, we extended all current therapy animal team registrations for one year. This removed pressure from handlers and team evaluators to deal with in-person evaluation events, and allowed teams to continue their work without worrying about registration renewal until 2021. We created new options for our mini-workshops so that volunteer leaders can present them virtually and still encourage interest in therapy animal work in their communities. And we developed a virtual option for team evaluator training that avoids travel and gathering in groups, while still preparing new evaluators to serve their communities and evaluate therapy animal teams when it's possible to do so again.
In addition to these adjustments, we created a variety of resources for volunteers and facilities to help them deal with COVID-19 and therapy animal visitation. These include best practices for safe in-person visiting; guides for conducting virtual visits; and specific guidance for volunteer leaders.
We were able to hold our signature events in 2020, with some adjustments due to circumstances. While in-person celebrations were largely not an option, volunteers and supporters across the country celebrated National Therapy Animal Day on April 30 with social media posts, videos, and letters to local governments in support of therapy animal teams, while Treats & Sweets Day bakers found ways to hold virtual treat parties and fundraisers throughout April. The World's Largest Pet Walk, which was designed from the start for people to choose their own walking locations and times, was easy to adjust for safety. This year's walk, on September 26, went forward with masks and distancing to keep participants safe in locations all over the U.S. and in a few other countries as well, and was our most successful walk event to date, raising more than $70,000 to support our Therapy Animal Program.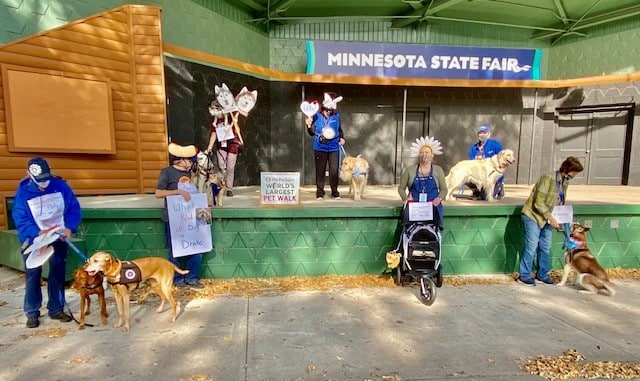 Looking Ahead
As we look ahead to 2021, there are still a lot of uncertainties about when typical therapy animal activities can resume widely across the U.S. Our primary concern will always be for the safety of our volunteers, therapy animals, and clients, and we will continue to operate with that as our guiding principle while we see how conditions develop with COVID-19.
We're developing new options for registration renewal and for safe team evaluations. We're encouraging our teams to continue virtual and distanced visits as ways to volunteer safely, and to use ARE to maintain connections with facilities and clients. We're also encouraging teams who meet the requirements to complete our animal-assisted crisis response (AACR) training, which will better prepare them for visiting with people who have experienced grief and trauma as a result of the pandemic.
We're also working with volunteer leaders and local groups to recruit new therapy animal teams. The need for the comfort and support that therapy animals bring is only increasing, and demand for therapy animal visits will be even more urgent in the new year. Our efforts include a special partnership with Purina Cat Chow to register new therapy cat teams and offer the unique benefits of therapy cats to more people.
We're planning more live online events to educate and connect with people; we already have several Facebook Live events planned, and we intend to add some Instagram Live events as well. We also plan to turn our scheduled 2021 conference into a virtual event.
We're getting even more creative with our signature events and designing new options and activities. Even if these events still have to be virtual or physically distanced in 2021, there will be plenty of ways to celebrate therapy animals and the positive effects they have on human health and well-being.
And we're expanding our offerings and support for professionals in the field of animal-assisted interventions. Professionals who incorporate therapy animals into their practices and facilities are an important part of AAI and we're actively planning to bring more support for their work and professional development in 2021.
2020 will always be an extraordinary and extremely challenging year. But our mission continues, with even more urgency and importance. While we don't yet know what 2021 will look like, we know that we will continue to bring therapy animals to people who need them and expand the impact of AAI to more people—especially as we move forward from 2020.
← Back to the blog
---