Connecting in New Ways: Alternative Options for AAI
January 29, 2021
by Jesse Haas, National Director, Programs
The Pet Partners Therapy Animal Program was originally designed to bring the benefits of therapy animals to people through in-person interactions, and this model has allowed our teams serve their communities for decades. The COVID-19 pandemic and associated restrictions on in-person gatherings presented a major challenge to this model of animal-assisted interventions (AAI). When the extent of the pandemic became clear in Spring 2020, Pet Partners knew it was important to create and support opportunities to keep facilities, clients, and teams connected.
What we didn't immediately realize was just how deeply and broadly our volunteers would employ virtual and alternative visits to stay in contact with the people they serve. It's been heartwarming to see these connections, but more than that, it's been truly inspiring to witness the willingness and creativity of so many Pet Partners volunteers in maintaining the human-animal bond despite the restrictions of the pandemic.
Alternative options for AAI such as virtual visits, window visits, outdoor parades, outdoor educational visits, and letter-writing campaigns have created pathways for engagement when standard in-person visiting became impossible in many places. These alternatives, which fall under the broad category of animal-related engagement, are supported by research that confirms they can have positive effects when in-person AAI isn't an option. Pet Partners volunteers everywhere have been finding ways to employ these alternative engagements in support of their communities. We'd like to share a few examples of how these options are being used.
Virtual Visits
Virtual visits most often involve direct, live conversations and interactions between therapy animal teams and clients, patients, or students. These are typically done through online platforms that allow real-time interaction. Other virtual visits are pre-recorded messages that are sent to facilities, but still provide important connections when in-person visiting is not possible.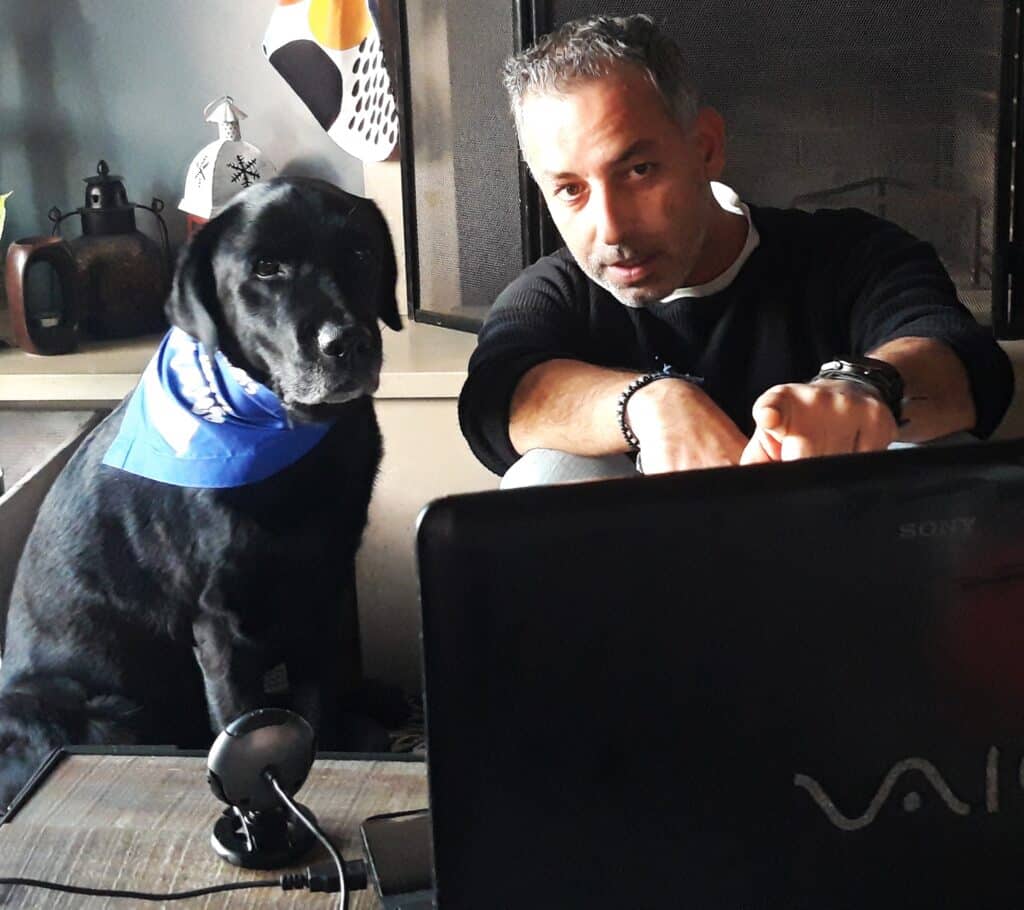 Handler Constantinos Kalfountzos with dog Basquiat from Pet Partners of Hellas (Greece) visited virtually with a class of 5th graders nearly 150 miles away on the island of Crete.
Window Visits
Window visits occur, of course, at windows, with handlers bringing their therapy animals to facilities and interacting with residents or staff through the window. But these visits often involve more than just walking an animal to a window and saying hello through the glass. Volunteers have found ways to make these visits more dynamic, such as using stools and treats to keep animals at eye-level and engaged with the visit, or creating signs to allow more direct communication with people on the other side of the window.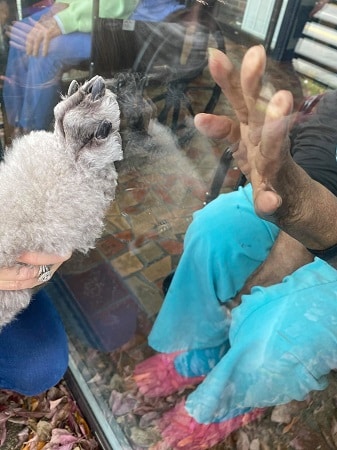 Handler Misty Rigas and her dog Louis bring connection to those living in nursing care facilities in Georgia.
Parades
Parades have taken place in cars and on foot. Generally they involve moving around the perimeter of a facility so that many people can view the animals, either through the windows or socially distanced outside.
Handlers Diane Prange and Bill Lozito participated in a holiday parade at a veterans hospital with their many huskies, including registered dog Chekhov. 25 other vehicles, many with Pet Partners teams inside, participated.
Outdoor Education
Outdoor education involves moving clients or facility staff outdoors to receive a socially-distanced visit from Pet Partners teams. Because direct interaction may not always take place, this type of visit is often used to teach people about the animals, their training, their care, and the Pet Partners experience.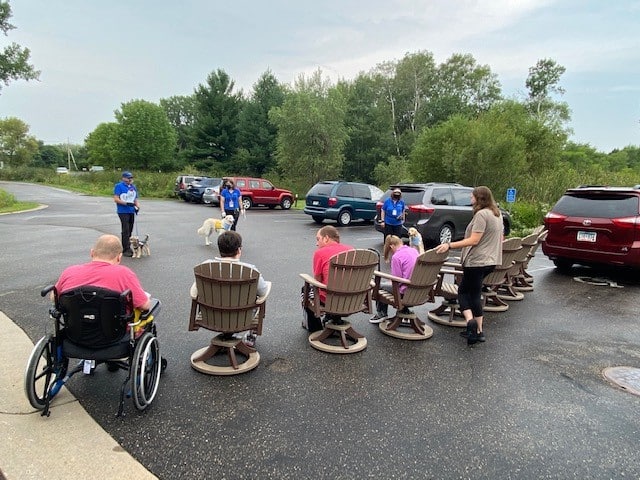 Minneapolis volunteers visit at a local long-term care facility.
Letter-Writing Campaigns
Letter-writing campaigns were especially popular in Spring 2020, when even outdoor or distanced visits weren't possible, and many volunteers have kept them up as an additional way to connect. Handlers write letters to facilities and include updates about their animals, along with photos. This was especially effective for facilities who had existing relationships with the teams writing letters, but it can certainly work in other contexts. Letter-writing is an excellent option for teams who aren't interested in virtually visiting (virtual visits aren't a fit for every person or animal) and for teams who want to eliminate even the very low risk of window visits or parades, as well as when the weather isn't appropriate for these types of interactions.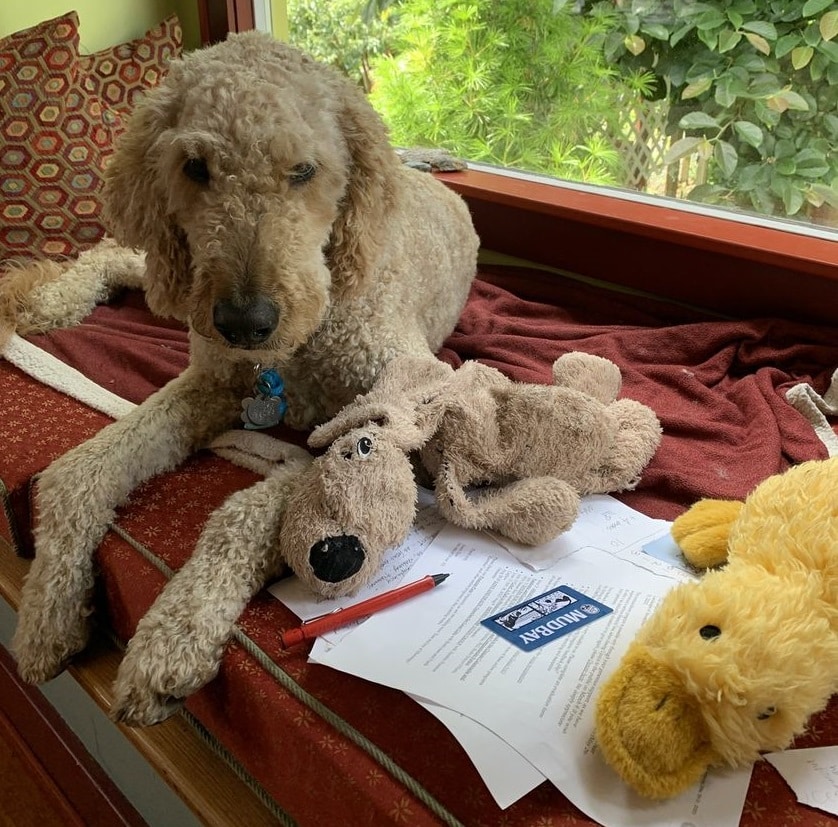 "I'm writing a letter each week about Tashi's life during this time to the staff at our hospice house, where we visit during normal times. The staff adores Tashi as much as patients and families do. The head of the hospice house prints out the letter and photos and posts them on the break room door every Friday. The day before they are posted, staff are actually talking about what Tashi's going to be up to this time around!" —Handler Caryn Friedlander and dog Tashi
Learn more about how Caryn and Tashi work together on Caryn's blog
The Future of Alternative AAI Options
These alternative visit and engagement options have been so welcomed and overwhelmingly successful that it will be interesting to see how they might continue even in a post-pandemic world. After all, there are always some people who can't receive in-person visits, due to a health issue, a facility policy, or geographic location (no teams nearby), so at least some limited demand should remain. The opportunity to bring the power of the human-animal bond to more people with these alternatives is an exciting development for the field of AAI.
The COVID-19 pandemic has presented the most challenging circumstances Pet Partners has encountered as an organization. And our volunteers would likely say the same about the impact this has had on their lives and the lives of their animals. However, the importance of the human-animal bond remains and even grows through crises like these. The adaptability of our teams never ceases to amaze us, and we are so grateful for their dedication to the power of AAI and the human-animal bond.
← Back to the blog
---