Maintaining the Human-Animal Bond During COVID-19
November 18, 2020
Originally published March 2020; updated November 2020
As the world deals with the effects of COVID-19, one of the most important mitigation strategies is social distancing: having people distance and isolate themselves to help prevent spread of the virus. This important public health measure means that people are staying home and not going out for usual activities, schools and businesses are closed or have heavily restricted access, and most therapy animal visits aren't possible. This is a challenging time and we know that Pet Partners volunteers, clients, and supporters may be wondering how they can keep their connections when they can't be together in person.
While we can't offer the in-person healing effect of a therapy animal's presence in many places right now, there are still a variety of ways that people can stay engaged with Pet Partners and our mission. Here are some ideas for ways to maintain the human-animal bond even when you're required to stay physically isolated.
Enjoy Virtual Therapy Animal Visits
Many Pet Partners teams have been finding creative ways to keep up their visits through technology. We've heard from handlers who are sending photos or videos to the facilities where they visit, making daily posts on their social media to make sure there's always a supply of therapy animal photos available, and  doing video chats for clients and facilities with their therapy animals. These are great options for helping people stay connected with therapy animal visits and offer the effects of AAI to the extent possible under current circumstances. Our Facebook group Virtual Visits with Pet Partners provides a place for handlers to post photos and short videos of their therapy animals that facilities can then use to support clients and staff.
Employ Animal-Related Engagement
While nothing can replace the impact of visiting with a therapy animal in person, the power of the human-animal bond exceeds any single circumstance. When therapy animal programming isn't available, there are still creative ways in which animals can positively influence our wellness. These opportunities can be defined as Animal-Related Engagement (ARE), which is any engagement opportunity that allows participants the benefits of the human-animal bond by encouraging the remembrance of feelings that are commonly associated with interaction with an animal. ARE can include things such as photos and videos of animals; crafts built around animals; supporting an animal-focused organization as a volunteer; and education about animals. ARE is supported by foundational research and is another tool available to help support human health and well-being through AAI. Learn more on our ARE page and download the white paper for detailed information on this initiative and how it can be used.
Take an Online Course
We have a variety of courses available about multiple aspects of AAI to help therapy animal handlers improve their skills, and to support facilities and people working with specific populations. Topics include infection prevention and control (very relevant right now!), canine body language, and working with veterans and people with Alzheimer's. Courses are self-paced and can be taken on your own schedule. This is a great opportunity to learn more about how to make every therapy animal visit safe and effective. Check out our Online Education page for more info.
View a Webinar or Facebook Live Recording
Pet Partners periodically presents free webinars on a variety of topics relating to our mission and volunteer procedures. Webinars are recorded and available to volunteers in the Volunteer Center, and some are available to the public. Visit our Webinars page to find out more about both previous and upcoming webinars, and to sign up for upcoming webinars.
In addition, we host Facebook Live events on the Pet Partners Facebook page featuring staff and guest experts. These are informal conversations designed to share information and expertise about topics relating to our mission and AAI. Sessions have included discussion about infection control and zoonoses; the research supporting AAI; helping your therapy animals deal with the changes due to the pandemic; and an ongoing series highlighting leaders in the field of AAI. Just visit our Facebook page to find out about upcoming events. Live events are recorded and archived on the Facebook Video tab, and available on our YouTube channel for viewing at your convenience.
Keep Up Reading Skills with We Are All Ears
Since Read With Me visits are affected by social distancing and stay-home directives, we wanted to ensure there's a way for kids to still benefit from reading to pets. We Are All Ears, a worldwide reading project, encourages children to read to pets at home, and provides a variety of tools and fun resources to support a home-based reading program. Check out our We Are All Ears page to learn more, and our blog post for additional ideas on how everyone can get involved.
Connect with Fellow Volunteers
Pet Partners volunteers, both current and those who have started the registration process, can take part in our online discussion community. This space was created to give volunteers the opportunity to connect regardless of their location, and to learn from each other. Volunteers can make connections and talk more in-depth in the community than is possible in other venues; for example, volunteers on opposite sides of the country can talk together here, and handlers of the less-common therapy animal species can find each other easily and have conversations. Recent topics have included therapy animal teams working with occupational therapists; strategies for therapy cat visits; and handlers who have multiple therapy animal partners. To join the community, log in to the Volunteer Center and click Online Community.
Brush Up on Your Skills or Prepare for Your Evaluation
For current volunteers, this is an opportunity to refresh your handler knowledge, while for those who are in process of registering as a team, this is a great time to reinforce the skills and knowledge you'll need when it's time to evaluate. You can review the Handler Course, read through the Handler Guide, and work with your therapy animal partner on refreshing relevant skills and reaffirming the strong bond you have. When you're able to visit again or take your team evaluation, you'll be even stronger as a team. Current volunteers can access the Handler Course and Handler Guide for free through the Volunteer Center. Prospective volunteers can access the Handler Guide at the beginning of the Handler Course.
Consider Becoming a Volunteer Leader
Volunteer leaders are vital to supporting our Therapy Animal Program in local communities, and we're always eager to have current volunteers step up into these roles. Volunteer instructors present workshops to prepare and train prospective therapy animal handlers. Team evaluators conduct the therapy animal team evaluations that are so important to safe and effective therapy animal visits. There will be a great need for therapy animal visits and new teams when visiting is possible again; this is a great time for interested candidates to begin the required coursework for these roles and prepare for the work of recruiting, educating, and evaluating new teams. Learn more about the requirements in the Volunteer Center: log in and click Get Involved.
Become an AACR Team
If you're a registered team with at least six months of visiting experience, you're eligible for animal-assisted crisis response (AACR) registration. AACR training is all virtual and can be done at your own pace, and AACR registration is available to teams of all our registered species, not just dogs. Our AACR training includes education on mental health first aid concepts that are valuable not only in the immediate response to crisis, but in working with people who may have experienced crisis in the past. The need for compassionate, trained crisis response will be vital as we move through the pandemic. Current therapy animal handlers can learn more and get started in the Volunteer Center. And facilities who would like to learn more about our AACR training and team deployment can visit our AACR page.
Learn More about Setting up a Facility Program
Are you with a facility that's considering adding a therapy animal visiting program? We have some resources to provide information and ideas for you, and this is an opportunity to consider how you can design a program that will be right for your needs. We also provide guidance on safe visiting during COVID-19. Visit the Pet Partners at Your Facility page to get started. We also have a Facebook Live session designed to help facilities in setting up a visiting program and connecting with therapy animal teams—view the recording on our YouTube channel.
Read Our Magazine
Recent back issues of our twice-yearly magazine, Interactions, are available in PDF format on our website. These issues contain engaging articles and useful information about our Therapy Animal Program, past events, research and professional development in AAI, and much more. It's a great opportunity to catch up on your reading! Subscriptions to Interactions are available with an annual donation of $25 or more.
Read Stories about Our Teams
Browse our Featured Teams for stories from handlers about their Pet Partners and how their visits make a difference for people. You can also read tributes to some therapy animals who have left us and be inspired by how they touched lives.
Honor. Remember. Celebrate.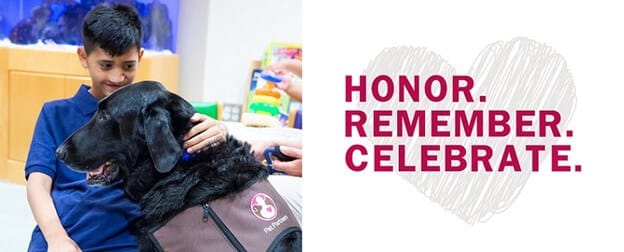 If there's one thing that 2020 has made crystal clear, it is just how important our loved ones are—including our pets. The human-animal bond is such a powerful thing and here at Pet Partners, we like to celebrate it every day! That's why we created a "Do It Yourself" fundraising site that can be used by anyone who would like to ask friends and family to donate to Pet Partners. This site lets you create a fundraiser that is specific to whatever you would like to recognize. You can get creative, have fun, and schedule it during a time that works best for you. You can customize your fundraising page by adding stories and photos to celebrate the person or pet that these donations will honor. Any activity, any passion, any hobby, and anything that brings people together can be a successful way to fundraise for Pet Partners, allowing us to improve people's health and well-being through the human-animal bond. To get started, visit our DIY page.
Follow Our Blog!
Of course, if you're reading this, you're already reading our blog. But consider taking a look at some of the other posts here as well. Our existing content covers many facets of AAI, from serious topics like research and infection control to fun information about what it's like to be a therapy dog, as well as looking at the history and context of AAI, recaps of special events, and more. New posts are added regularly and we have great plans for the next few months, including guest experts and more information on non-canine therapy animals. You can subscribe on the main blog page to get notices about new posts. Or bookmark the blog and check back regularly!
This is an unprecedented and challenging time for our communities. But we know how dedicated our volunteers and supporters are to our mission of improving human health and well-being through the human-animal bond. Sharing our efforts and passion however we can, and helping each other during this time, will make sure that people can still benefit from the effects of therapy animals. Pet Partners will continue to support our volunteers and the AAI community through this challenge.
← Back to the blog
---